Tricks of the trade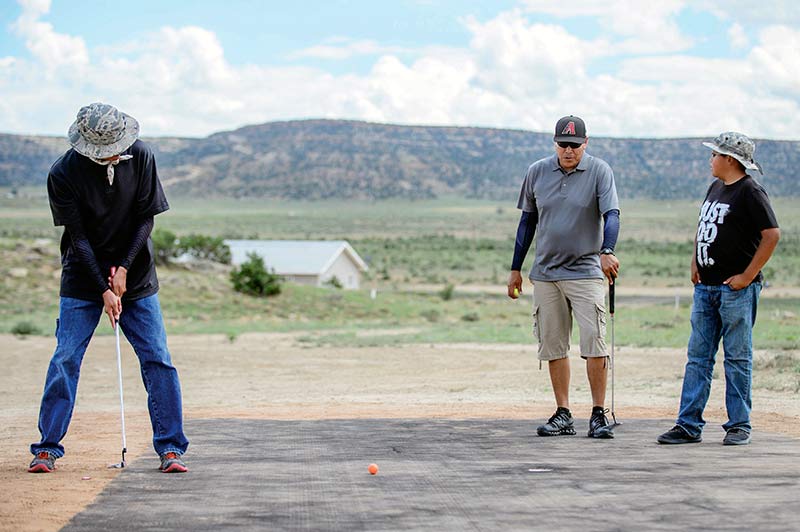 Rez golfers play slopes, rolling balls – and hope for luck

LOW MOUNTAIN, Ariz.
The length for the 5th hole at Lowerville Stingers Golf Club is 410 yards.
The number of strokes for that fairway to make par is five. But for a majority of the golfers who took part in the Stingers' 6th annual golf tournament last Saturday, that particular hole caused a lot of headaches.
"It's so smooth it's like cement," Emmett Francis said. "You have to hit it properly or you could play it to the side in the dirt to get closer."
Francis teamed up with Fraylin Ben and on their second attempt at that hole Ben hit the ball 6 inches off the green and after one failed attempt they bogeyed.
"Most of the scores go up because of this," said Francis, who won this same tournament two years ago.
But if you play it right and land your ball to the side, Francis said, you have a great shot of finishing that hole.
In their first attempt it took them seven strokes to complete that hole.
"We were barely warming up," said Ben, one of the course designers.
As for that shot, Ben said that was more or less a lucky shot.
"Golf is nothing but making lucky shots," he said.
The team of RJ Jordan and Larry Sheperd had a little luck on their side when they went one over par on their first try.
"Our ball fell on the right place," Jordan said. "Our ball hit a grain of sand and it held it for a while to where I could mark it."
---