Navajo MMA fighter bouncing back from adversity, doubt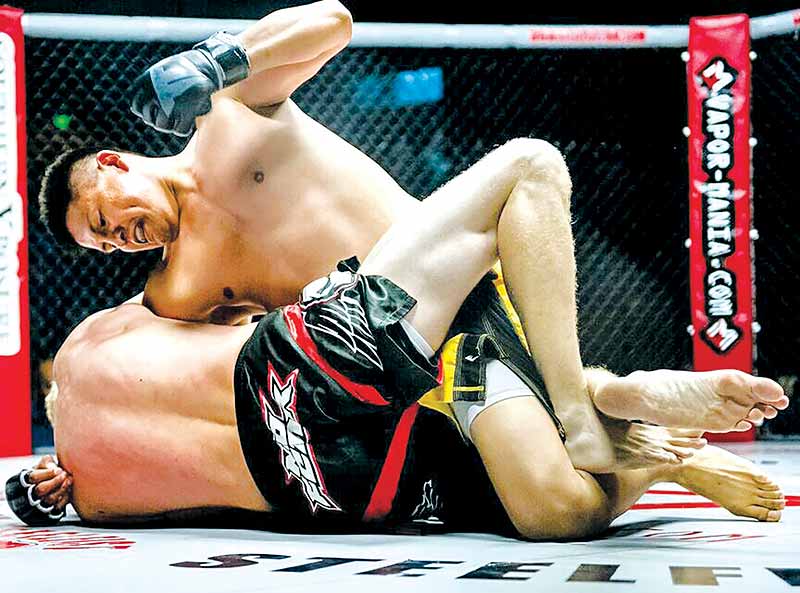 FRUITLAND, N.M.
Somewhere in the Chinle High School Wildcat Den hangs a banner for the 2002 wrestling team that won the Grand Canyon Regional Wrestling Championships.
Since the banner retired to its home in The Den, hundreds, maybe thousands, have passed it without knowing it was ever there.
"Being in Chinle, where there's the Wildcat Den, where everybody goes to basketball games, nobody knows pretty much what wrestling is," said Chinle native Randy Yellowhair. "I've been to The Den, I've been there during the playoffs, and nobody knows that my banner is hanging in The Den."
The banner is a staple for Yellowhair, who was a star wrestler for the Wildcats from 2000-2004, and made numerous state appearances and placed fourth at one point in his high school career.
The banner, the lone wrestling banner in The Den, is a reminder for Yellowhair of how far he came and where he's going as a professional Mixed Martial Arts fighter.
Yellowhair, 30, is entering his fourth year as a professional MMA fighter, and this weekend he will have what he considers to be the biggest fight of his life when he meets Brazilian fighter Thiago Alves in the Steel Fist Fight Night at Legacy Event Center in Farmington, Utah on Saturday at 6 p.m.
It is the first fight Yellowhair has had after taking a near year-and-a-half break from the cage.
He said a series of unfortunate situations in his personal life led him to take the long break but now he's back.
"I needed to get back up, I needed to show everybody at the time, you can be down but you're never out," Yellowhair said. "I'm going to do this for myself, I'm going to prove to everybody that I'm back."
---