Navajo runners compete at inaugural TOC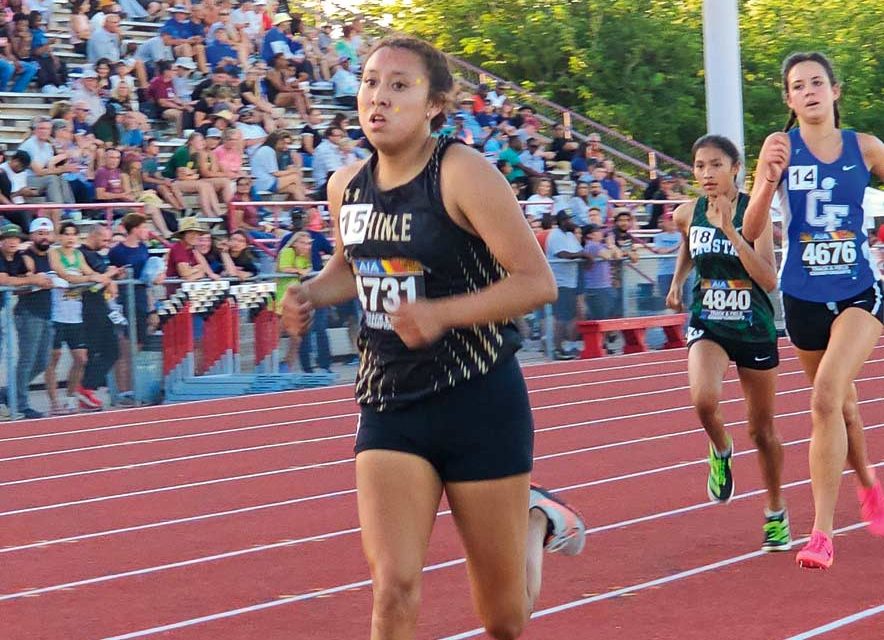 MESA, ARIZ
The Arizona Interscholastic Association created a new annual event dubbed The Tournament of Champions.
The TOC pits the top athletes in track and field against one another from across all divisions.
Only the top 18 of each event earned qualifications, among them were a few local athletes from the Navajo Nation.
Only a small number of athletes from local schools like Flagstaff High, Flagstaff BASIS, Coconino High, Page High, Chinle High and Holbrook High made the cut.
Only one athlete represented Holbrook, Flagstaff BASIS, Chinle and Page.
The meet was held last Friday and Saturday at Mesa Community College's with field events taking place in the early evening and track events later on, lasting into the night.
Flagstaff High had five athletes representing their school, with only one, Dash McQuivey, winning a medal in the boy's 3200 meters after placing fifth with a time of 9:19.40.
In the girls 1600, Chinle's Temyra Bia ran against Taylor Biggambler from Flagstaff High. These top regional runners raced against the best in the state with Bia taking 13th with a time of 5:15.28. Biggambler made some gains in the final 100 meters, overtaking Catalina Foothills High runner Taylor McCue and securing 14th with 5:16.14 minutes.
Later, Bia ran in the 3200s alongside Page's Jade Reid. The run was one of the last events of the tournament, it was held at night with the stadium floodlights on, which attracted swarms of insects. Both girls commented feeling a grasshopper hitting them on occasion, but did their best to ignore them.
The girls ran their two miles as they tried pacing themselves, but weren't able to keep up with the leaders. Bia came in 10th at 11:17.28 while Reid came in 15th at 11:36.04.
Reid is a junior and plans to return to the TOC next year, saying she had learned a lot.
"It feels good to have this opportunity," Reid said. "I want to congratulate all these girls because, man they ran pretty fast."
Overall, she says this was the most challenging 3200 race she's competed in. All the girls were top runners and even with the sun down it was still very humid, making all the other runs she did this past season seem easier by comparison. The bugs didn't help much either, but she assured they didn't affect her performance.
She was nervous though competing against the best, that plus the sapping heat are things she'll be better prepared for next season.
Being the sole runner from Page didn't phase her much, saying she was used to it from her middle school years as back then she would be the only one to qualify for state.
She is proud to represent her school and the Navajo Nation, coming from Ts'ah Bii Kin just outside of Page. She hopes her performance will inspire other rez kids and shows anything is possible as they see a Navajo runner compete in the TOC.
She thanks God for the season and her accomplishments, saying she had good races and bad races as well. But with the bad races, she always gets up from them, learns from them and runs again.
"I think this was one of my best seasons and I'd like to thank my coaches for pushing me and my parents for always setting high expecting and pushing me and helping me getting there, its such a good feeling," she said.
One of Page's coaches, Timothy Martin, was equally proud of having one of his runners in the race and said she held up well in the competition.
She wasn't in the best position during the last couple of laps, allowing the other runners to get away from her, but overall she still did good against her competitors.
"It's amazing to have just one athlete here, you're looking at the top 18 runners in each event and for her to be one of those, we're all proud of her," Martin said.
He believes the TOC is now a new level for his athletes to aim for, to elevate their performance. Watching the meet, Martin saw state records being broken in different events and knows his team will have to work harder to get in and meet, if not exceed expectations.
The Page coach said his son, Symond Martin, missed the state qualifying time by one second.
"They're going to have to train harder, be more dedicated and be more serious," Martin said. "Otherwise, you're not going to make this meet because everybody else has to step up."
Despite only having one athlete in the TOC, he still said the Page team had a successful year this season. The Sand Devils captured the regional meet and a few of them placed at the divisional meet two weeks ago. Martin said they took the most kids to the divisional meet in what would normally be a state meet in 10 years.
Martin said it was awesome having Reid represent the Sand Devil community, but also able to see some other rez athletes make it as well and seeing them among the best.
Although the whole Chinle track team didn't get in, a number of them and relatives made the trip to support Bia, who missed her graduation so she could compete in the 1600 and 3200 races.
Bia said she was happy with her performance in both races, though is somber knowing they are the last races she will run for her hometown of Chinle as she starts her collegiate career next year.
"It felt really exciting and emotional, but it feels great," Bia said. "When I crossed that line and just seeing my parents and my friend's faces and congratulating me, it made me feel good about just being here and representing them, myself and Chinle."
She described her 1600 run as tough, but enjoyable. She said the first TOC was a learning experience for her. She didn't feel any added pressure for being the only Chinle runner competing, just focusing on her race and doing the best she can.
She said the same for the 3200, describing it as one of the toughest races of her career, but she was able to PR by 10 seconds. Coming from a small school and running with girls from higher divisions only pushed her to do her best.
Her time in track and cross-country has taught her that she may have had bad races, but to not let it bother her. The important thing is to have fun. She loves to run and her passion to do more helps her to maintain her performance.
She said she overall felt honored to be the first Chinle athlete to compete in the TOC, but says anyone can do it if they push themselves and keep looking forward like she did.
She congratulates all the girls she ran against, especially her rival Reid from Page, saying she ran a good race that night. She thanks her friends, family and coaches for pushing her and letting her be there that day.
"I would say it feels great," Bia said. "I feel very happy about my performance and kind of emotional because this is my last meet, but other than that I feel pretty good about it. I'm very happy to be here."
Chinle's coach Beatrice Begay congratulates Bia and said she's happy one of her athletes made it to the tournament. She knows that Bia wanted to make it and to represent both the team and the rez.
This past season she said Bia overcame a lot of challenges, but she persevered with a strong will that led her to the tournament. For the 3200 she said Bia finished strong, appearing to slow before the finish but assuring she ran the last few laps faster than before.
She believes the TOC to be a good idea as well, with all divisions coming together, which will push her athletes to do better.
She will miss Bia and although she was a good runner, Begay will also remember her for being a good leader and friend. Just that day, she was sitting with a teammate as they watched the events and Bia pointed out things that her juniors can work on next year, seeing it as possible for them to make it next year.
"This is her last, last race of her high school career moving into her college career and I told her, 'Make it a fun, fast race for tonight,'" Bia said.
---