Past stars on hand for ASU-Baylor game, focus on youth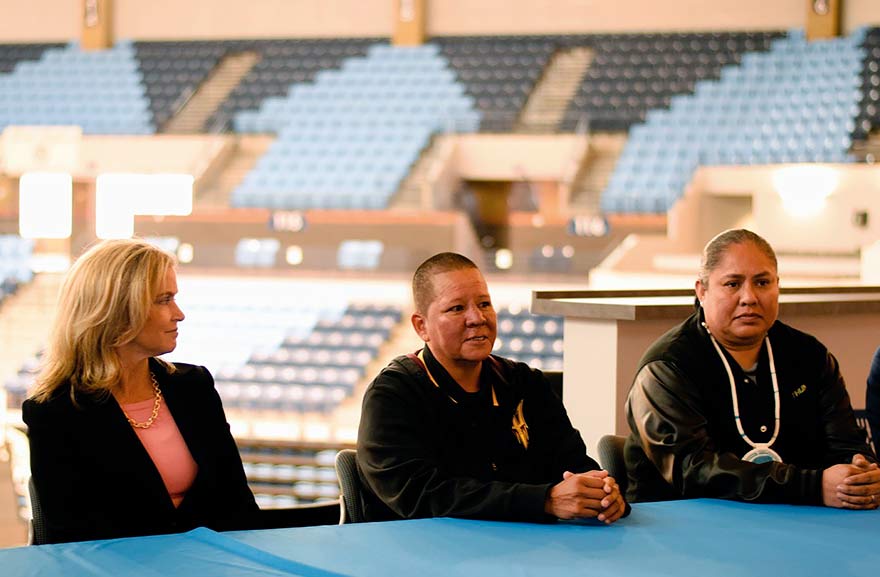 FORT DEFIANCE
"Da da da, da da da."
That classic ESPN jingle comes to mind for Ryneldi Becenti as the national televised women's basketball game between national powers Arizona State University and Baylor is drawing near.
The ASU Lady Sun Devils will host the Baylor Lady Bears on Nov. 11 at the Window Rock Events Center, which has been dubbed "Showdown on the Rez." Tipoff is scheduled for 5:30 p.m. Tickets for the marquee matchup are $5 and they can be purchased at Window Rock High School.
"As kids we always heard that (jingle) and now it's coming here," Becenti said during Monday's news conference at the state-of-the-art facility in Fort Defiance. "Growing up as little kids all of us had a vision, which was to get out there and show our talent. It's just an honor that it's coming here to my hometown."
On Nov. 11, Rainy Crisp, Michelle Tom, Kalene Carl, RaeAnn West and Becenti will be honored for laying the groundwork for others to pursue basketball at the collegiate level.
More specifically, ASU women's basketball coach Charli Turner Thorne said the game next month will tie in two things: rezball and honoring veterans.
"We are meshing the passion and the love of rezball here on the reservation," she said. "We want to talk about these young women's stories in what basketball has meant to them and how it impacted them.
"We also want to celebrate and hold a tribute to our troops," she said. "We are honoring the present and the past but we want to emphasize our Vietnam veterans. Like all Vietnam veterans they were disenfranchised and they did not get a proper welcome home. Our goal and attention on Nov. 11 is to give them a proper welcome home."
Since becoming head basketball coach 19 years ago, Thorne said she's done a lot of events to promote the women's game. With the help of women's basketball operations director Ryan Cohen, they hosted the first outdoor basketball game at Chase Fields during the 2000-01 season against Tennessee.
"We did two of those actually," she said. "We are trying to grow the game of women's basketball and we're hoping to tell these stories."
Thorne said when she first pitched the idea of playing at the Events Center, Baylor women's head coach Kim Mulkey was quickly on board.
"Games like this are a little dicey," she said. "There is a lot of logistics going on and you know it's not convenient as taking a flight to Phoenix and things like that. But Kim did not hesitate. She was interested the second I talked about it."
Thorne said landing the ESPN deal took one phone call. She contacted Carol Stiff, vice president of Women Sports Programming, and with the countless storylines, the network agreed to televise the event.
"I'll be totally transparent – women's basketball as great as it is, it doesn't always sell itself," Thorne said. "They do want stories. They do want the stories to draw in a bigger audiences so (Stiff) she was interested right away."
Thorne said the storylines to be told are quite remarkable, such as Tom finishing up her residence to become a doctor at the Winslow Indian Health Care Center.
Crisp, who last played for Turner in 2004, has spent most of her adult life going back to her high school alma mater, teaching the game to a new bunch of youngsters.
Becenti and West have followed the same footsteps with Becenti being one of the pioneers of the sport.
"When I teach kids I am there to inspire them," Becenti said. "There are a lot of talented women out there and we just want them to keep going."
West, who flew in from Miami, said it was good to come home but she offered a glaring perspective in how she sees today's athletes.
"A lot of the kids around here will never leave here to watch a (collegiate) game," West said. "They won't go to Albuquerque or Phoenix to watch a game so to have this game is huge. It's going to inspire a lot of kids around here because that is what they need, it's going to be in our backyard."
---