95 PRCA top rookie inducted into INFR hall of fame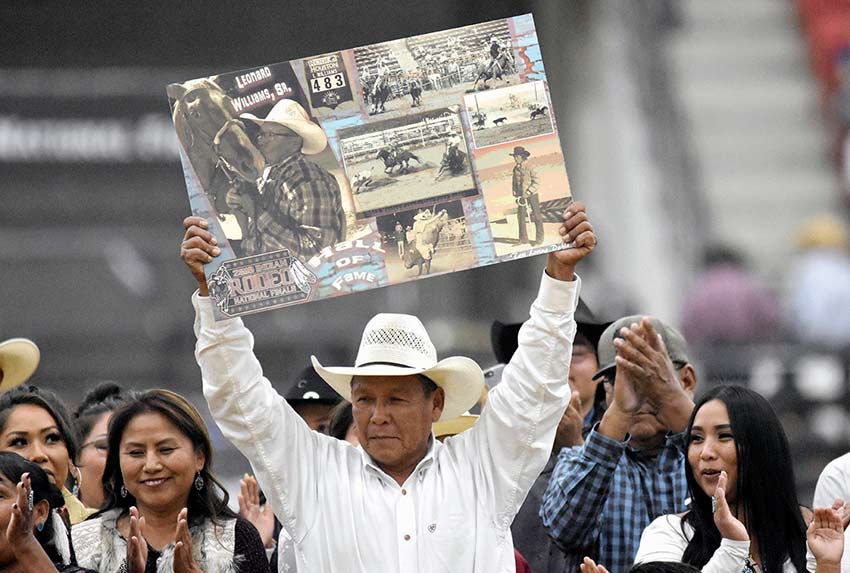 LAS VEGAS, Nev.
His rookie of the year recognition in the PRCA ranks separated Leonard Williams Sr. from the rest of this year's Hall of Fame honorees at the 43rd Annual Indian National Finals Rodeo.
Williams was inducted to the 2018 INFR class along with Wright Bruised Head, Yvette Vega, Ed Hall and Jack Forman on Saturday night in a ceremony at the South Point Equestrian Center.
The Tolani Lake, Arizona, cowboy said he was in awe to be chosen, and getting the nod was unexpected.
"Just to be part of that hall with all those heroes is a great honor," he said. "Just to be mentioned in the same sentence with those guys is something special."
Alvin Smith, Navajo Nation Rodeo Association president, did the paperwork to nominate him.
"He was instrumental getting me in," Williams said of Smith. "I appreciate him pursuing that and thinking enough of me to get inducted into the hall of fame."
Williams said he's had many highlights over his five-decade career but the crowning moment came when he was named PRCA Rookie of the Year in 1995 when he was 37 years old.
"I competed against ropers that were in their 20s," he said. "I must have had a great horse at that age."
Fellow team roper Gilbert Monroe says his cousin deserved to be inducted in the hall and he remembers that 1995 summer when Williams rode his trusted horse, Paint.
"He got that horse from one our uncle Amos Monroe and that horse fit him like a glove," Monroe said. "A lot of people said that horse ducked too much, but for Leonard, it just fit him just right."
That year he finished No. 26 in the world and that qualified him to compete in some of the big rodeos such as Rodeo Houston the following spring. And although he did not do as well as he would have liked, Williams said the experience was out of this world.
"I was excited to be there," he said. "That was the first time I competed in a big arena like that and there were about 70,000 in attendance that night. As big as that rodeo was – I was this roper from a small community of Tolani Lake."
---