A team of brothers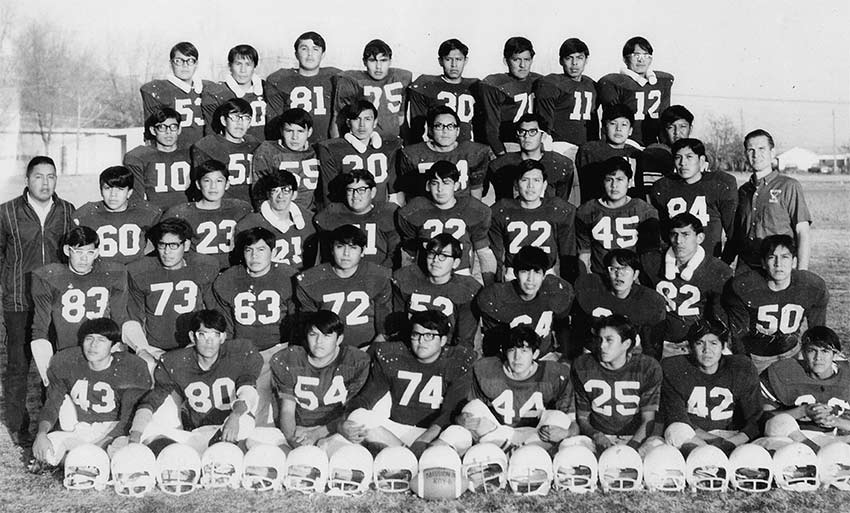 In 1968, Navajo Mission won state football championship
FARMINGTON
When Warren Dixon sees his greyish-haired teammates he doesn't see the aged men now in their 60s. He sees the group of strong, young Diné who won a state title 50 years ago.
He sees the 1968 Navajo Methodist Mission High football team that took down the Roy High Giants against all odds. He sees the six-touchdown underdogs. He sees his brothers.
"I see Walt, Walter Bedonie, No. 42," he said. "I see football. I remember the plays, the defense. We ran the Denver Tight-T formation, and the running backs are right up on the backs of the linemen.
"Every time I remember LoRenzo Bates, LoRenzo, I think of him wearing his glasses all taped in white," he said. "It made him look mean."
It has been 50 years since Dixon, Bedonie, Bates, and the group of about 42 football players from Navajo Methodist Mission (now Navajo Preparatory) won the school's first and only state title in Class C over Roy, 30-6.
They finished the season 6-3-1 and worked their way to the state championship match one feat at a time.
Some say their journey on what was dubbed an impossible mission began when former Farmington football coach Joe Price arrived at Mission in the summer of 1967. Others say it was many years before.
Learning the game
Watson Bradley was about to start preschool, or as they called it pre-first, when his parents dropped him and his brother, Wilfred Bradley, at Navajo Methodist Mission.
He spent 13 years of his adolescence at Mission going to school and playing football.
As a kid he watched as the "big boys" (high school players) play football, and he and his friends would mimic them in games of flag football.
"They dropped us off and said, 'We'll pick you up around Christmas,'" Bradley laughed. "I used to watch the big boys go out there onto the football field and they'd play. What I'd like to hear is their cleats on the sidewalk. I thought it was pretty impressive, these big guys in pads walking around out there."
It made Bradley want to play football.
Jasper Gleason had a similar experience. Originally from the Two Grey Hills area, he was dropped off at Toadlena Boarding School, where he learned to play and love football.
"It was interesting, the sport was interesting," he said. "I learned to play flag football and played all the way through until I transferred to Mission."
Like Bradley, Dixon grew up at Mission.
Dixon's father and older brothers went to school at Mission and in 1948 his father was on Mission's state runner-up basketball team, when the Eagles fell short to Portales 33-31. Back then classification meant very little when it came to the state playoffs.
Originally from Gallup, Dixon grew up learning to appreciate the game of football and his teammates.
"Most of the guys on the team had been going to school here for a long time," he said. "They grew up together. Some of the guys were together since second grade. I think just growing up throughout the years we gelled. We were just like brothers from all different parts of the reservation."
---