Allentown, Whitecone cowboys win $1,000 showdown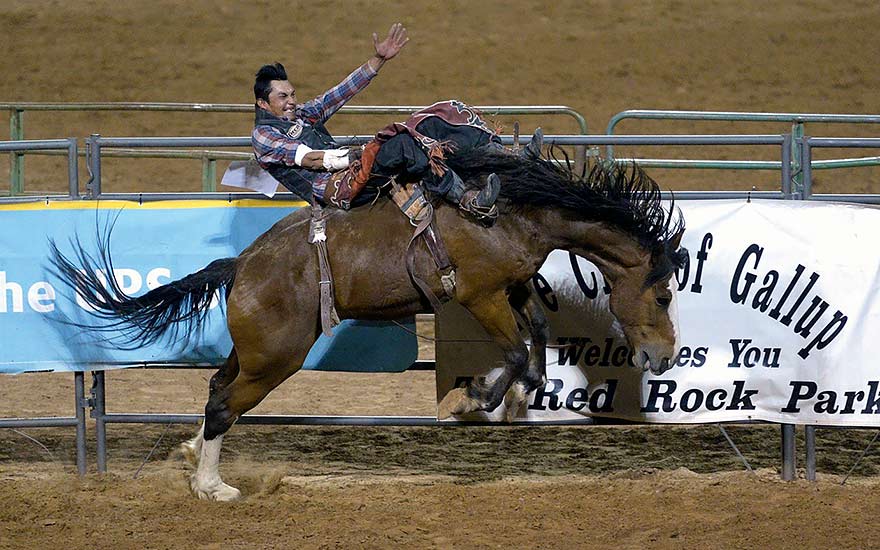 RED ROCK PARK
The 71st Annual Gallup Lions Club Rodeo reintroduced the $1,000 Winner Take All Showdown at this year's rodeo, which was held last week.
The high score from each night in the bareback, saddle bronc and bull riding earned invitations to compete in Saturday night's bonus round.
Allentown, Arizona, saddle-bronc rider Creighton Curley and Whitecone, Arizona, bareback rider Earl Tsosie Jr. took home the bonus round checks with outstanding rides.
Tsosie bested the 78.5-point scored turned in by Tyrick Wilson with an 80-point effort.
"My ride wasn't that good but my horse made all the points," Tsosie said.
Last year, Tsosie said he drew the same horse at a rodeo in Pagosa Springs, Colorado, and on Saturday night the animal made him work just as hard.
"I had to bare down on that horse because he was yanking on my arm and my neck," Tsosie said. "They marked that horse pretty high."
In the saddle bronc, Curley was the only rider to cover his draw as he posted an 81-point ride.
"It felt pretty good," Curley said of his draw. "It had some moves and I kept hustling."
"I'm glad they brought it back," said Curley, who turned down a PRCA rodeo in Silver City to make Saturday night's ride-off.
With no qualified rides in the bull riding, next year's pot will grow to $2,000.
Greasewood, Arizona, bull rider Marshal Tsosie came close of claiming that $1,000 bonus prize.
"I almost had him," Tsosie said.
The 19-year-old cowboy earned his bonus round qualification by posting an 85.5-point ride in last Thursday's opening round aboard Snoop Dogg. That score ended up being the rodeo's top score as he was paid $1,508 for winning the event outright.
"It was a good bull and he just kept coming around," Tsosie said.
---