Change of plans works out for Megabucks winner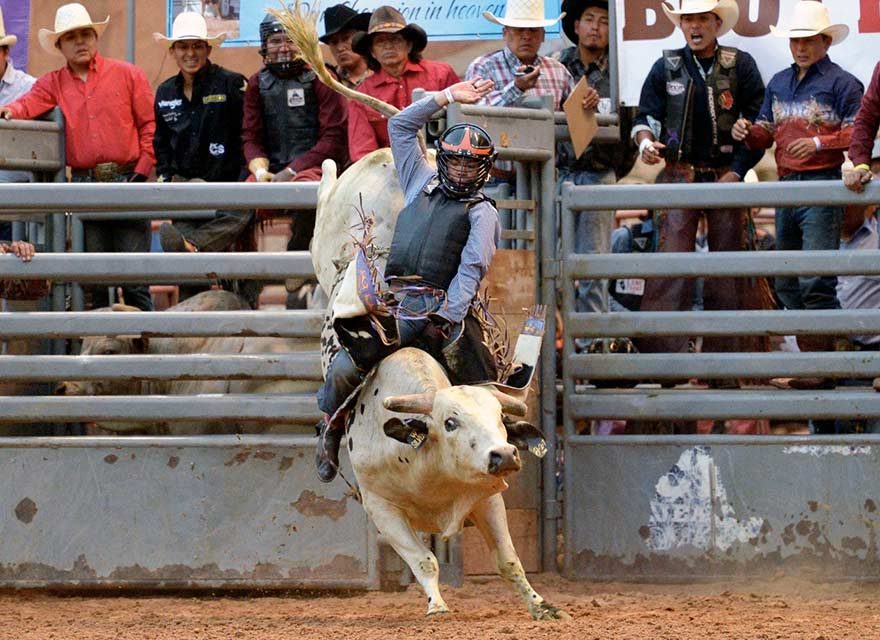 CHURCH ROCK, N.M.
As a last-minute addition, Wyatt Betoney came into his own and made the most of his stay while competing at this year's Megabucks.
"I wasn't planning on being here," the Rough Rock, Arizona, cowboy said on Saturday night. "I was supposed to be in Montana."
Betoney had planned on taking part in an INFR tour rodeo but his ride north had to leave last Thursday.
"I couldn't leave work until Friday," the 23-year-old cowboy said.
Still he had no plans on riding at Megabucks until he ran into a few stock contractors late Saturday afternoon who were headed to the event.
"They asked if I was going and then I saw a post that they were looking for riders," he said. "I turned around and came this way."
That last-minute decision turned into a hefty payday for Betoney as he was crowned this year's champion after posting an 83-point ride aboard Jungle George, a Danley Bucking Bulls product.
That first-place win earned Betoney a $3,700 payday.
"He came out to the right and he was fast," Betoney said of his bull. "He was in and out and he actually made me work."
Admittedly, Betoney said he got into trouble near the end of his ride as Jungle George nearly bucked him off.
"He kind of took me out of my hand but luckily I got past the eight seconds," he said.
Including Saturday's win, Betoney said he's only placed one other time at Megabucks. In years past, he didn't have a chance to compete as the event was held during the College National Finals Rodeo.
Betoney said his big haul is going to help financially.
"I'm actually moving to Albuquerque so this is going to help out," Betoney said.
He is set to enroll at the University of New Mexico pursuing a degree in public health.
---