Ganado's Micah Slivers signs to run for CAC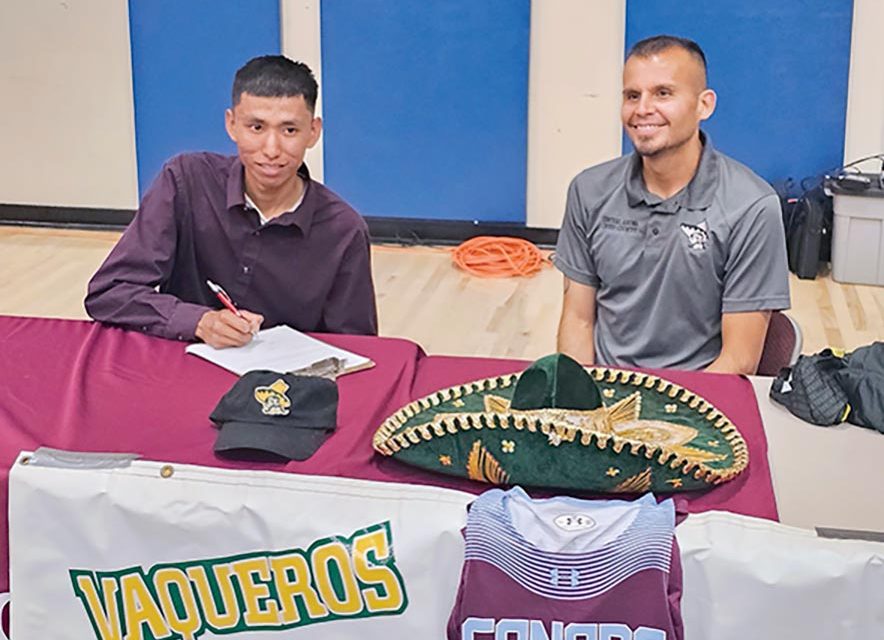 GANADO
The Ganado Hornets gave a big sendoff to one of their star athletes, Micah Slivers, who signed his letter of intent to run collegiate cross country for Central Arizona College.
"It's a good feeling to be signing for collegiate sports because you know all that hard work that you put in, all that dedication has paid off," Slivers said last Thursday.
Family, friends and faculty were invited to the school's gymnasium where a series of speeches were made in Slivers honor before the signing.
Ganado's Athletic Director April Clairmont welcomed everyone to the signing ceremony before listing Slivers' achievements and all that he had done for the school.
Slivers has brought honor to the school during last fall's Arizona 3A state cross country meet.
Projecting a video, attendants watched the dramatic final seconds of the championship race, as Slivers used the last of his strength to pass the top runner in the final seconds, stealing first and breaking the ribbon at the finish.
Ganado High Principal Lucille Sidney wished Slivers well and praised him for his accomplishments. She remembered last year being at a family gathering, unable to attend the state championship. She started to cheer about Slivers' win when word reached her, much to her family's confusion.
GUSD Superintendent Dr. Leandra Thomas talked about her time training Slivers when she coached him.
"I am very proud of Micah and proud of him wanting to take the next step into pursuing his running career," Thomas said. "And of course, making it so that he can be a student athlete going forward. All the community, everyone that came here today, we're just so proud of him."
She believed what helped him stand out to colleges was his sharp mind, his way of strategizing during meets, which also helped him succeed in the classroom as well. She also sees how strong his support system is, from his large family to his teachers and friends. He received a lot of encouragement and advice from others which helped him become the young man he is today.
Thomas watched Slivers grew from the middle school team, to today. Through the years, he grew in confidence and soon was challenging himself, his teammates and kept pushing to be better.
She describes Slivers as very humble, who takes his training and schoolwork very seriously. He shows dedication by either being at practice or at a tutoring session.
"That dedication and determination to be willing to do what was asked, whether it was from the coaches or the teachers, he was able to step in and continue," Thomas said.
Slivers will now be coached by CAC head coach Jonathan Harmon, who is actually a former teammate of Thomas. They ran together for CAC before graduating from the institute. Thomas
She thanks everyone who came that day to show their love and support to Slivers. She hopes his achievements will inspire other native kids across the rez who are growing up in a small place like Ganado, giving them hope to know that they too have a chance of making it to college.
Slivers then took the stand as he thanked everyone for being there, his friends, family and teachers who all contributed to his success. He cracked jokes, talking about how his running skills had helped him win turkey trots and provided his family with a Thanksgiving meal for four years.
He has been running since the fifth grade, but can't describe why he enjoys it, only that running gives him a good feeling. It has also taught him discipline in both sports and education, and to give respect when its due.
What he enjoyed most about his time in cross country were the easy runs, when he gets to spend time with his friends and coaches. He also enjoyed traveling to new places and meeting new people. He enjoys cross country, but he also did track and field, and used to play basketball and baseball.
He is proud to be a Native runner, helping with groups like Wings of America to promote healthy living to kids.
The past few years have been tough with the COVID-19 pandemic heavily affecting his school work and life, but that only motivated him to work harder.
"This year I worked hard to make sure I graduate," Slivers said. "I was able to juggle sports, education, chores and my other competitive dreams."
He plans to study to be a commercial Electrician Installer.
Harmon, who is originally from Chinle, said being a former teammate of Thomas from CAC made last Thursday's signing more special, knowing that Slivers has already received great training from Thomas.
"Micah was chosen primarily because of his talent level, of what he was able to do on the cross-country course," Harmon said.
He remembers seeing Slivers perform at a meet once, at the time he was a sophomore but he was already passing upper classmen during the race so Harmon kept an eye on him. He only grew certain of his decision to invite Slivers into the program after meeting him and liking his hard working, but humble character.
Also being Navajo, Harmon is happy to bring another Diné into college and in time knowing Slivers will give back to the native community.
"We're very excited to have him on the team," Harmon said. "He's going to be a great asset in our quest for national championship. He's going to fit in well, he's going to push the guys and the guys are going to push him; he's just scratching the surface of what he can do."
Slivers is happy to go to college, though he will miss home, giving thanks to his team and coaches whose support made his hard work worth it.
"Ganado is where it all began," Slivers said. "I learned, I grew and I improved in my education thanks to the teachers who helped me along the way, I was proud to represent my community at every race as an athlete."
---