Following big footsteps: For young roper, it comes down to little things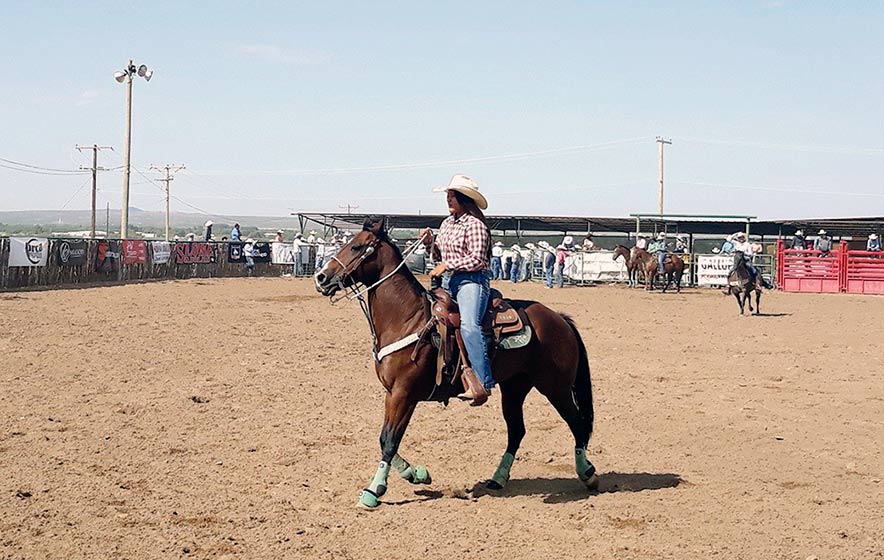 MESQUITE, N.M.
As a third generation cowgirl, Kadin Jodie has some big shoes to fill.
Wanting to follow her dad and older brother's footsteps, Jodie is looking to add to the family legacy by qualifying for the 2021 National High School Finals Rodeo.
"It's motivating," Jodie said when asked if she enjoys the comparisons to her father and brother. "It really pushes me to do better."
The home-schooled sophomore has set some high expectations in her first year as a member of the New Mexico High School Rodeo Association.
She wants to earn the same accolades as her dad and brother who both qualified for nationals. Back in his heyday, her dad, Sheridan, was a state steer-wrestling champion while older brother Matt was a reserve champion.
"I got a chance to travel with my brother when he made nationals and that is what I want to do," Kadin said.
"She can make it if she keeps roping," Matt said, while noting that his sister has the talent to be a state and national champion.
"She can be up there," he said. "She just needs to keep practicing."
At the recent Landmark High School Rodeo in Mesquite, New Mexico, Kadin turned in a pair of solid runs in the breakaway event. During the two-day rodeo, she finished second in the average race to Rylee Grace Abel.
"She's a tough roper," Kadin said of Abel, while noting that there are more cowgirls just like her.
"There's a bunch of them," she said. "Any of these ropers can rope twos or threes so it's going to be tough."
With the talent level being raised, Kadin said the difference is going to come down to the little things.
"It's going to be intense so you just have to be fast," she said.
With that said, Kadin feels that she needs to work on her start, as her timing was a tad off.
"I was off the barrier in both of my runs this weekend," Jodie said. "It's something I need to work on."
Nevertheless, she posted a pair of runs in the three-second range, including a 3.22 in Saturday's performance. Sunday's results were not post online at press time.
"Roping my two calves this weekend gave me some confidence going into the next rodeo," the Mulholland Well, New Mexico, cowgirl said. "I feel like I can compete with these girls."
Kadin wasn't the only cowgirl in the Jodie clan to fare well over the weekend as Kadin's cousin, Erin Etsitty, placed fifth in Saturday's performance.
"I could have been faster but I took an extra swing," Etsitty said of her 3.53 run that placed her fifth in the round, which was one place out of earning a check.
The next day, however, she ran into some bad luck, as she posted a no time.
"I got out good but once I threw my rope my loop closed up," she said.
Still, Etsitty said she was pleasantly surprised with her results since she started roping competitively the last few months.
"I was nervous but I'm glad I roped one of my calves," she said.
And although she's new to the sport, she said making nationals is a possibility, as the association will take its top four finishers at the end of the season.
"If I work hard enough I think I can make it," she said. "But it's going to be tough. Those other girls are really competitive and they're consistent."
The two Mulholland Well cowgirls paired up in the team roping competition with no such luck.
"We're still a work in progress," Etsitty said.
Crownpoint cowgirl Tyra Tsosie was another local that fared well competing at the first high school rodeo.
Tsosie turned in a pair of solid runs in the goat-tying event. On Saturday, she placed fifth with a 10.81 run and on Sunday she backed that up with a 10.89 run.
"I think I did pretty good," the Crownpoint High freshman said.
Admittedly, Tsosie said she would have been faster if she used her dad's horse, Easter, in the competition.
On both days she tried to enter Easter in the arena but he did not cooperate as Tsosie mounted up on two other horses.
"He just got too hyper," Tsosie said.
The Crownpoint cowgirl believes she can cut her time with Easter as that prized steer wrestling horse doesn't halt in the middle of her runs.
"He runs to the goats and he doesn't stop," she said. "I can get faster times with him."
---