Gilbert cowgirl ropes all-around title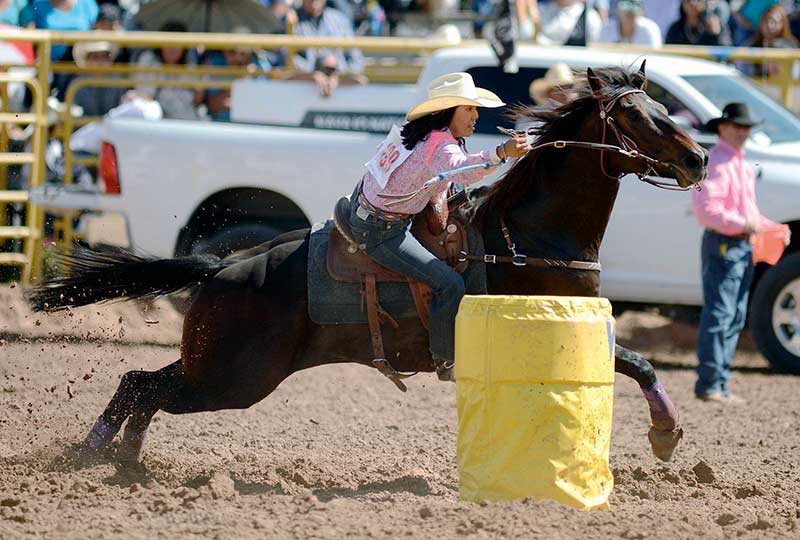 WINDOW ROCK
The coveted Navajo Nation Fair women's all-around title came down to Debbie Robbins and Danielle Lowman.
With a horse trailer up for grabs the two cowgirls put forth a roping clinic with Lowman outdoing Robbins.
"I have so much respect for Debbie Robbins and in order to beat her you have to go at it every day just like her," Lowman said. "She is a tough competitor."
Last Thursday, both cowgirls displayed their prowess as they teamed up to win the women's team roping competition with a 5.7 run they turned in.
Robbins added a third-place run of 11.3 seconds with heeling partner Skeeter Jackson in the one-go-round event.
On that same day, Lowman countered with a solid 2.3 run in the breakaway roping that placed her second in the round.
In the next round, Robbins finished eighth with a 3.6 but she had some ground to make up since she broke the barrier in the opening round with the 12.1 run she recorded.
On Sunday, Robbins won the short round with a 3.4 run but with no penalties, Lowman took the breakaway title with the 4.1 effort she turned in.
"I handled that pretty well," Lowman said of her short-round run. "I knew I had to ride real hard from the start. It was all about clean neck catch and I just had to get it on him."
In the barrel racing, 12-year-old Alexandria Begay wowed the crowd when she emerged as the average winner.
The Indian Wells, Ariz., cowgirl solidified her win by placing first in the short round with a 17.71 effort.
"I was here last year but I knocked down a barrel in the short round," said Begay, who was still in shock after winning her first Navajo Nation Fair title with her prized horse, Oranges to Bank.
"The first year I only did junior rodeos on her," Begay said. "The second year I did some associations and I qualified for the Indian National Finals Rodeo and this year I rode her again and qualified for the short round."
In the other two rounds, Begay placed second in the first round and third in the second for a grand total of $3,826.89.
In the Final Four round, she turned in another solid run but it was Ganado cowgirl Jareth Hale who claimed the $2,000 prize money with the blazing 17.65 run she turned in.
"It was either I win something or I didn't," Hale said. "There was no money for second place so it was one-shot deal. I went in there and I thought about keeping it clean, being fast and being smooth because my short round run I kind of overshot the first barrel. I was pretty bummed about that so I regrouped."
---