Giving 100 percent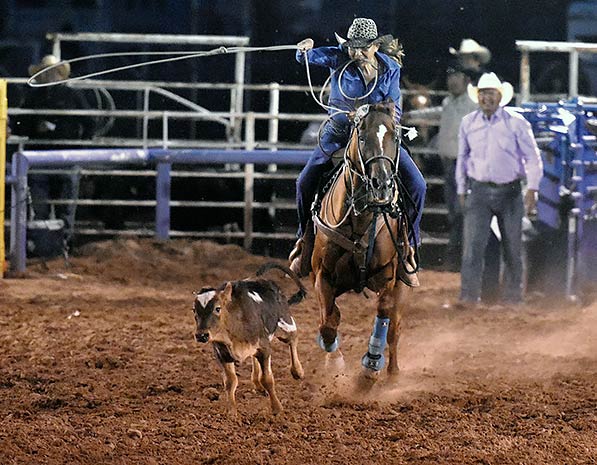 Shiprock tie-down roper overcomes knee surgery
CROWNPOINT
Kim R. Jim would be more willing to take part in the tie-down event rather than just watch it.
Last year the Shiprock cowgirl did the latter but every muscle in her body wanted to be out there in the arena. Due to having knee surgery, Jim watched her peers rope, flank and tie their respective calves at last year's women's rodeo at the Diné Bi' Eastern Fair.
"They really opened my knee up and after surgery I couldn't walk," Jim said. "The doctors told me that I couldn't rope or run again but I felt like I had to prove them wrong."
Jim said she had an abscess growing in her right knee and the only option at removing it was to have surgery. Admittedly, she wasn't sure what she was going to do with herself and at times she pondered her next move.
"I pretty much lost my range of motion so I had to learn how to walk again," she said. "Honestly, I thought about what other things I could do. Was I going to start sewing and make blankets?
"All I know is rodeo so I had to prove a lot of people wrong," she said.
At this year's women's rodeo, Jim placed second in the tie-down event that helped her win the all-around title. In addition to her favorite event, she placed second in the ribbon roping.
"This is real special and I really enjoy tie-down roping," said Jim, as she turned in a 41.94 run and finished second to Aiesha Curley, who won the tie-down event with a 32.07 run.
Kim said she got introduced to tie-down roping as a member of the Western Junior Rodeo Association in her teenage years.
"I was one of the first females to do calf roping in the junior division when I was in WJRA," she said. "My dad said that if I wanted to win the all-around I needed to start calf roping so I started doing that."
Even after she graduated from the WJRA ranks, Jim said there were a handful of fairs that offered tie-down roping in an all-women's rodeo format.
"It's something that I've always done," she said. "I rope with my boys at home so this is not new to me. Every time I get an opportunity to tie-down rope I am going to go out there and rope."
---