Local favorite Guytin Tsosie earns first place check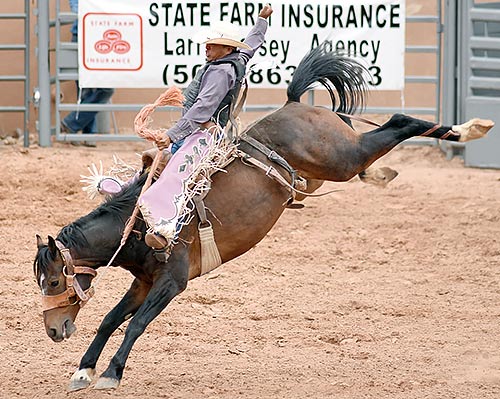 CHURCH ROCK, N.M.
It's been just short of a year since Guytin Tsosie fell off the back of a bull and shattered his right leg while on the Professional Bull Riding Built Ford Tough Series.
Shortly thereafter, Tsosie vowed to have a full recover by this December and by the looks of his performance at the 94th annual Intertribal Indian Ceremonial Rodeo August 6-7, he may be on the right track.
Tsosie tied for first in the bull riding event with Stephan James, both scoring of 85.
"This is the first bull I really rode," he said. "I've just been branding, did exercise and meditation."
Tsosie said it was his first complete ride of the year and he hoped to qualify for the Indian National Finals Rodeo through his ride. The Ceremonial rodeo was a sanctioned INFR Tour rodeo stop, and those who contested and/or won their respective events were given points that would attribute to their qualifying for the INFR, that is set for November 3-7 in Las Vegas.
Tsosie qualified last year but was unable to compete due to his injury. He said he plans to go this year, should he qualify.
"(I'll go) if I don't get run over again," he joked.
---