Magdalena bronc rider wins 'hometown rodeo'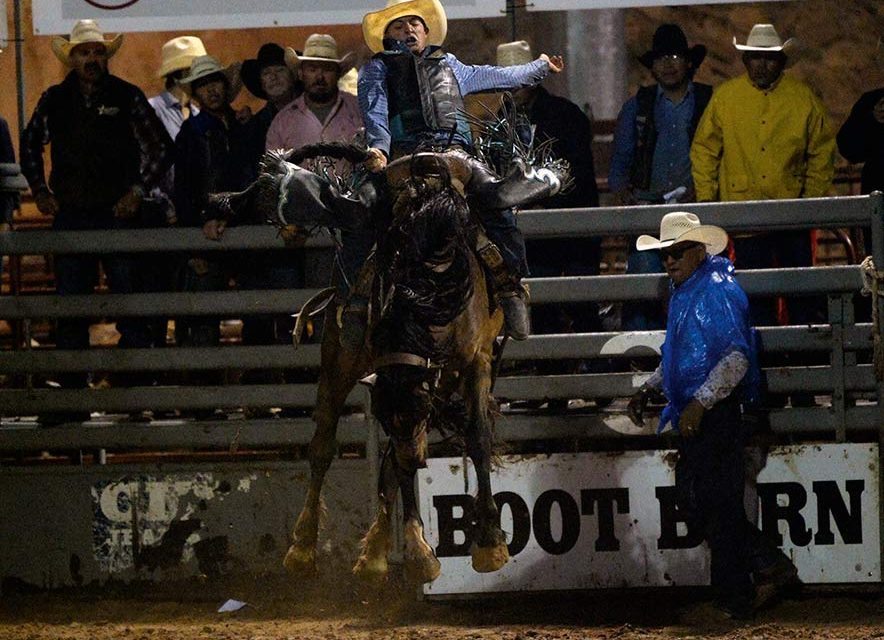 CHURCH ROCK, N.M.
With roots in Ramah, New Mexico, Jaxson Mirabal considers the Gallup Lions Club Rodeo his hometown rodeo.
Mirabal, who grew up in Magdalena, New Mexico, powered his way to a first-place finish in the saddle bronc event.
"My dad is from Ramah, so I grew up rodeoing around here, so it's kind of my hometown rodeo," Mirabal said. "I've been here a few times, and I've never won the Lions Club before, so it's one that you want to check off your list and win."
Mirabal, who competed on the University of Wyoming rodeo team, posted a 78-point ride aboard Backyard on Friday night for $1,177.
That ride earned him a ticket into Saturday night's $1,000 ride-off, and he competed against Gallup's Zane Munoz.
Mirabal got bucked off while Munoz made the eight seconds in the ride off.
"I lost my left stirrup, and he bucked me off," Mirabal said. "He got me early, but it was a lot of fun."
Since the onset of the pandemic, Mirabal said he hasn't rodeo in the area, so he was glad to go one-on-one against Munoz.
"Zane and I used to ride together," he said. "He's a few years older than me, and we used to high school rodeo together. We haven't seen each other for a few years, and it was cool to go against him in that ride off."
And although he placed second behind Mirabal, Munoz said winning the ride-off was for bragging rights.
"I didn't win the rodeo, but I had to show up for the bronc match," Munoz said. "That's a great deal."
To get to the ride-off, Munoz produced a 74-point effort on Katie on Saturday night for a second-place that paid him $784.
"I had to get the first one down; otherwise, it wouldn't have mattered," he said. "I just had to get them both ride, but the first horse was pretty good.
"I've been on here before, and she's a great horse," he added. "It was just the same game plan, which was to go out there and spur them, and lift."
As a rodeo heir to Ralph Maynard, Munoz said riding bronc is in his blood.
"My grandpa is a seven-time NFR qualifier," he said. "I guess you could say it's something I'm born to do, but it's also something that I love to do too.
"It just comes with the territory," he added.
---