Many Farms bareback rider looking to build on momentum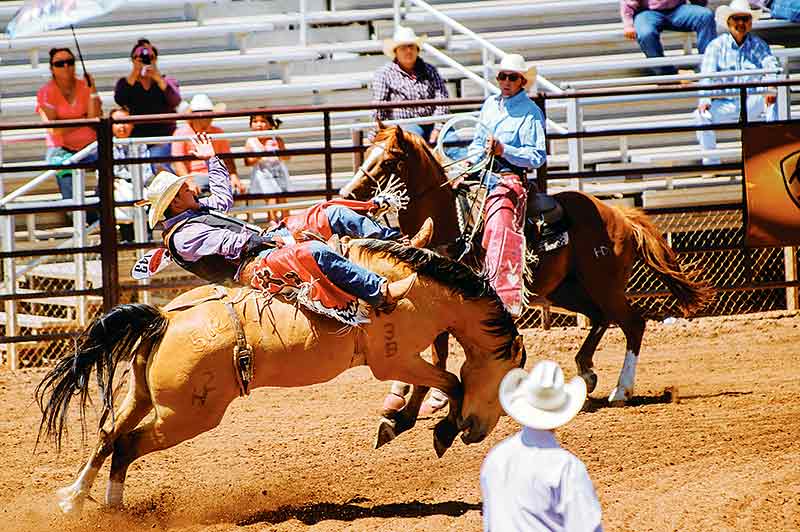 LUKACHUKAI, Ariz.
The stars are starting to align for Many Farms High School bareback rider Andric Johnson.
Fresh off a pair of wins over the weekend, Johnson is starting to like his chances for the upcoming National High School Finals Rodeo, which will be held in Gillette, Wyoming, July 17-23.
The weeklong event will have three go rounds with the top 20 contestants in each event advancing into next Saturday's short round performance.
"I'm feeling good about going to nationals," said Johnson, who finished third in the year-end standings for the Arizona High School Rodeo Association.
In addition to Johnson, five other local athletes will represent the Arizona team, including two state champions with Faith Holyan and Ramon Curly winning their respective events.
Holyan won the state crown in the breakaway roping with 230.50 points while Curley took the bull riding title with 218.50 points.
Meanwhile, Evan Betoney (bareback), Wyatt Nez (bull riding) and Bryan Moreno (saddle bronc) were reserved champions.
In the bareback event, Johnson finished the year with 177 points despite missing most of the high school rodeo season, which started last September in Payson, Arizona.
"I only went to the last two rodeos of the season in Wilcox and Prescott," Johnson said.
The soon-to-be high school senior earned most of his points during the state finals held last month in Payson. He finished the three-day rodeo by winning the average race with 194 points on three draws.
"I was the only one to cover three horses," said Johnson, who was awarded a buckle.
---