Mastering the three-man system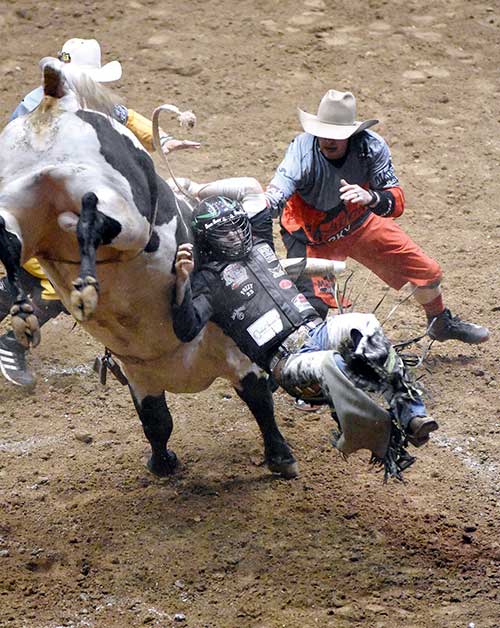 PBR bullfighters work in tandem to protect riders
ALBUQUERQUE
His job description is pretty simple.
As a professional bullfighter, Shorty Gorham has been putting his life on the line for the last 24 years in protecting every bull rider that gets in harm's way.
He is one of the three brave men that make up the Matador Jerky Bullfighters for the Built Ford Tough Series in the PBR ranks. He worked in tandem with Jesse Byrne and Frank Newsom over the weekend as they used their cat-like reflexes and shielded riders from an ornery bull at the Ty Murray Invitational.
"Every time you step into the arena you have to do the best job you can," Gorham said, while noting that working the WisePies Arena, also know as The Pit, presents a lot of challenges.
"It can get pretty intense, especially here in The Pit," Gorham said. "For me this is the biggest challenge that we see in our careers. I have done the National Finals Rodeo, the PBR Finals and I have worked in some of the biggest arenas in the world and this place right here is my favorite place to come because of the challenges. The crowd is so electric and the bulls hear it so they are amped up. And because it's a tiny arena everything happens real fast and if you're not on the ball, you are going to get in a bad situation."
Over the weekend, there were a lot of close calls, but with the trio working in sync they protected a handful of riders from possible injuries. A big part of that, Gorham said, is they have mastered the three-man system, which took a few years to tweak.
"We used to work in a two-man system and using that system seem liked we took a lot more shots than we did," he said. "It's fairly rare to get hit with the way we do things now because with the three-man system, there is always somebody with a good angle to help you."
---