Whitehorse caps PBR with 3 90-point rides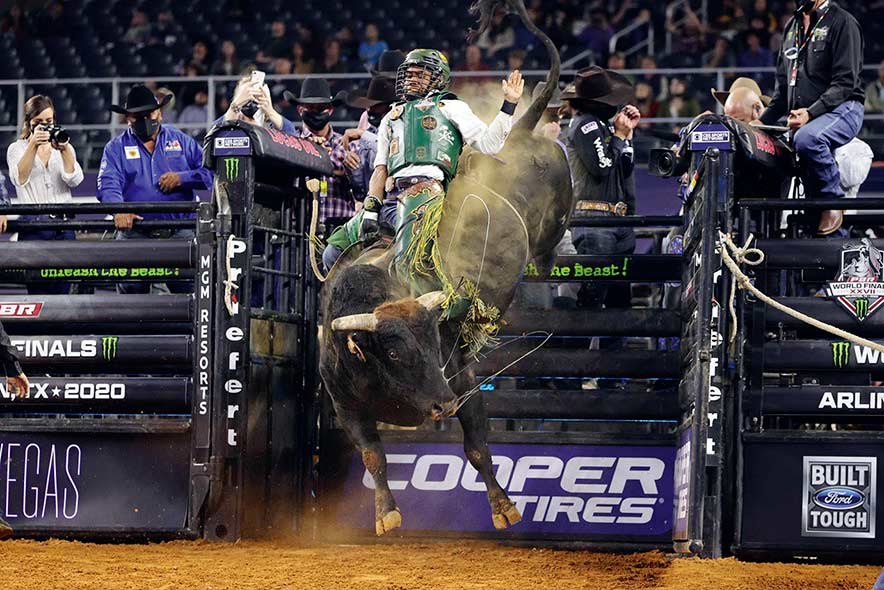 WINDOW ROCK
On the strength of three 90-point-plus rides, Keyshawn Whitehorse capped a memorable PBR World Finals.
The Diné cowboy from McCracken Spring, Utah, covered 3-of-5 bulls and finished the aggregate race in third place with 274.75 points behind event winner Boudreaux Campbell of Crockett, Texas, and Brazilian bull rider Marco Eguchi as the two rode 4-of-5 bulls.
Crockett, who was crowned the 2020 PBR Rookie of the Year, amassed 358 points while Eguchi finished with 347.75 points.
"This was a huge accomplishment and I just clicked in every moment," Whitehorse said on Tuesday, two days after the conclusion of the world finals, which was held inside the AT&T Stadium in Arlington, Texas.
"I made sure that I lived in that moment and I didn't let things get to me," he said. "I tried to keep things calm until the final day because it's not over until the last ride."
At the four-day event, Whitehorse collected $219,500, which included a pair of first-place checks as he moved up 20 spots to No. 7 in the world by earning 485 of his 685 season points at the world finals.
The 2018 PBR Rookie of the Year scored a 91-point ride aboard Rocky (Cord McCoy/Ronnie Chism Farm & Ranch) during Friday night's second round performance.
"When I won that round it gave me a lot of confidence," Whitehorse said.
The 23-year old cowboy said confidence is needed in this sport and he felt that his second-round win gave him the momentum to finish out the finals.
"I really think it did," he said, as he added a 90-point effort the next day aboard Skeeter Peter (Owens/Wyatt/Smith/Chad Berger), which was good enough for a three-way tie for fourth place.
On Sunday, Whitehorse recorded his highest mark ever in the PBR with a whopping 93.75-point ride on Chiseled (Finn D&H Cattle Co).
"Scoring that high is something a cowboy always looks for in his career," he said. "I hope to score that high again and get some scores around there."
On that particular bull, Whitehorse said he didn't do anything different, having been bucked off by that bovine in previous tries.
"That bull is good and I've been on him before," he said. "I talked to some of my buddies and I knew what I needed to do – I just made sure that I stayed calm."
To celebrate this grand occasion, the Utah cowboy said he enjoyed a nice steak dinner with his family before he got a good night's rest.
"All of this has sunk in and I understand the significance of it," Whitehorse said. "I'm very thankful and I have given it some time to appreciate it."
By finishing No. 7 in the world, Whitehorse said he's looking forward to next season as his latest work is something to build on for a possible gold buckle in 2021.
"I'm here to win a world championship, and to do that you have to be at your best," he said.
With the 2020 season in the books, Whitehorse said he has nothing planned yet on whether he'll have any photo op engagements on the reservation.
"There is a possibility of doing that but I still have to train and get my mind and body ready for next season," he said. "But I do want to come back and give the kids and their families some inspiration and hope."
---