Curley rules at Tohatchi: Pair of 8th-graders battle for girls' title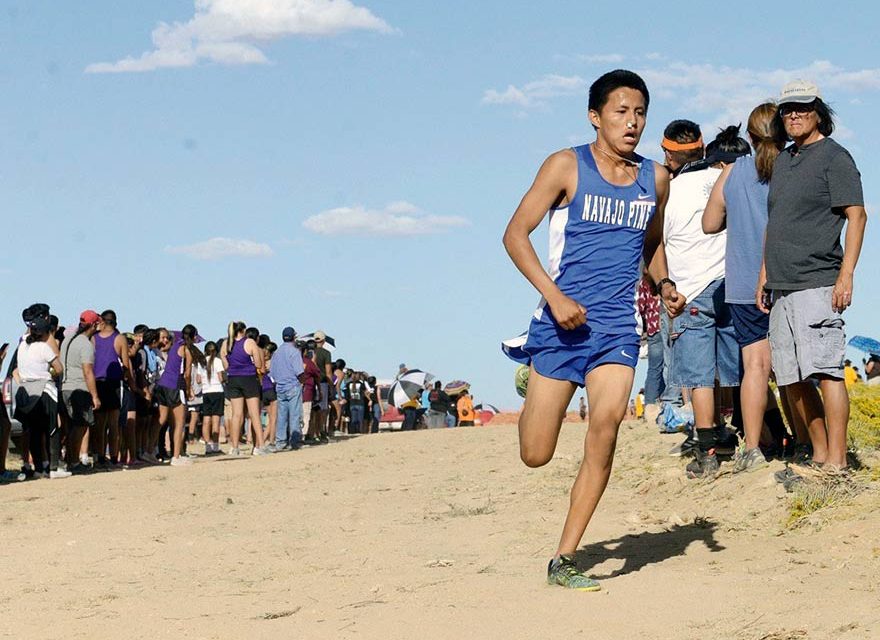 TOHATCHI, N.M.
In one of New Mexico's first cross-country meets, Navajo Pine senior Galvin Curley established himself as an imposing force for this upcoming season.
Under hot conditions, the running stalwart dominated the 5K-course at the Nashdoitsoh Invitational last Friday afternoon, winning the event in 16 minutes, 39.33 seconds.
He beat out his teammate, Michael Marshall, for top honors as Marshall was clocked at 17:53.65.
"I put a lot of miles over the summer and my goal today was to not let anybody keep up with me," Curley said.
In the girls' race, the title came down to a pair of eighth graders as Miyamura's Lorianna Piestewa got a stern test from Crownpoint's Tara Tsosie.
"This is pretty crazy," Piestewa said. "The competition was just crazy. Me and Tyra are eighth graders and she's the only one that can keep up with me and I just love it."
The two youngsters were neck-and-neck for the entire race until Piestewa used a strong kick to outlast the Crownpoint competitor. The Miyamura runner finished the race in 21:59.28 while Tsosie crossed the finish line in 22:03.96.
"I've been working on that for a long time," Piestewa said of her kick. "In the sixth grade year, I lost a race to a girl from Rehoboth because of my kick. Ever since then I made the decision to never lose a race like that."
And although she led from start to finish, Piestewa said she felt Tsosie's presence during the grueling race.
"Tyra is an amazing runner and she was about to pass me," the Miyamura runner said. "I figured she was going to do that but I stayed in front of her."
And although they ran in their first-ever varsity race, the two runners have a history. They competed with one another at the mid school level and at one of those races, Piestewa recorded a new PR.
"In our last cross-country meet we were neck-and-neck," Piestewa said. "She pushed me enough for me to get my fastest two-mile."
In last Friday's race, Tsosie said she wasn't expecting to challenge her rival like that. She based that assessment on what she did two weeks ago at the McGaffey scrimmage. At that scrimmage she placed fourth overall with Piestewa winning the race.
"I didn't expect to do this well," Tsosie confessed. "I thought I was going to either take fourth or fifth but I was trying to stay up with her (Piestewa). I didn't want to get too far behind her."
Crownpoint coach LaWanda Nodestine said she's not surprised with what Tsosie did.
"She was focused on what she wanted to do and how she wanted to run her race," the Crownpoint coach said of her pupil.
In the team standings, the Shiprock Lady Chieftains claimed the title by placing three runners – Kaydence Platero, Jasmine Rockwell and Elena Hardy – in the top 9 as they finished with 59 points.
Platero took third while Rockwell placed seventh and Hardy garnered ninth.
"I'm a little bit surprised because we went really low key," Shiprock coach Alice Kinlichee said of winning the team title. "We haven't been doing much because of the weather but I told the girls today that I believed in their talent. They showed me their talents today."
The Miyamura girls came in second with 75 markers while Crownpoint tallied 101 points for third place.
The Shiprock boys' team replicated the same feat as the girls' team by winning the team title with 85 points. The Chieftains were paced by Demitrius Young's fifth-place finish.
Shiprock also got a 13th-place effort turned in by Justin Bitsilly, a 15th-place finish from O'Rye Franklin and a 17th-place effort by Shannon Dale.
The Shiprock boys edged Navajo Pine for the team title as the Warriors finished with 89 markers. Gallup took third with 95 points.
Besides the 1-2 finish by Curley and Marshall, Navajo Pine also got a seventh-place effort turned in by Dominique Clichee.
"We have some new runners on the team," Navajo Pine coach Kyleigh Thompson. "We were missing our fourth runner today so we used today as a training race. We wanted to see how we do as a team and how we competed in an actual race."
As for Curley, Thompson said his offseason training paid off for her pupil.
"He put in the miles during the summer and he wants to keep his momentum up from last season," she said. "Watching him today you could tell he was just focused."
Nonetheless, Curley said he felt uneasy at the start of the race since there was a slight delay.
"I was kind of nervous because we were kind of standing around," Curley said. "I felt tired but when the race started I felt my normal self and I just set the pace early.
"I felt that my body was really good so I kept that pace," he continued. "As I got into the race I got more interested into it and I started to push myself more and more."
His teammate finished a distant second but Marshall said he plans on closing that gap.
"It's more about progress," said Marshall, who took a break from running over the summer. "I just need to keep working slowly day by day. Meet by meet I should be coming around."
---