Winslow answers coach's challenge for win over MV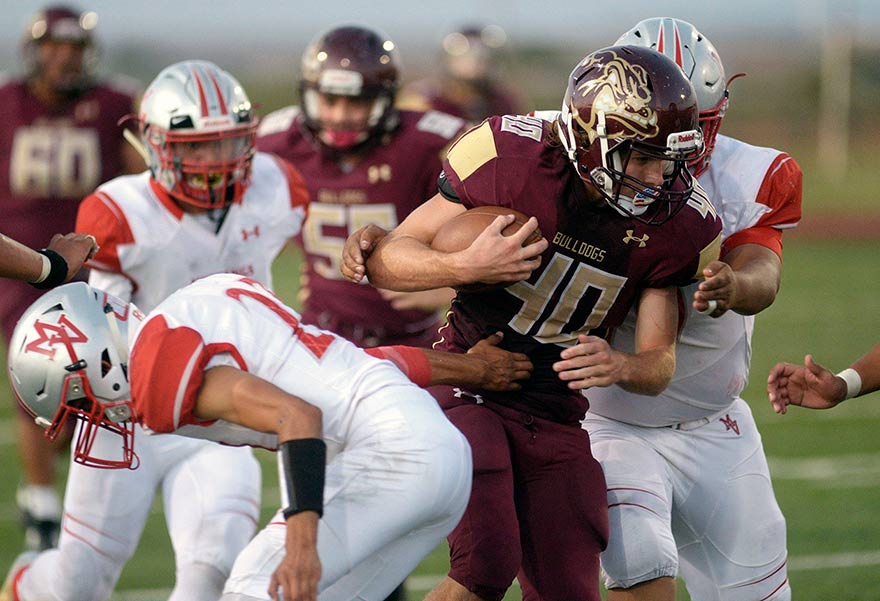 WINDOW ROCK
It wasn't pretty but the Winslow football team used a strong third quarter to gain some distance over the Monument Valley Mustangs last Friday night.
The Bulldogs scored 17 straight points in that pivotal quarter to post a 44-36 freedom game win as they improved to 1-1 overall.
"We came out in the second half and they answered my challenge," Winslow coach Brandon Guzman said of his team. "We made too many mental mistakes in the first half. We were able to pull away in the third quarter on big plays."
Going into the third quarter, Winslow led 20-6 at the break before junior Robert "Sonny" Wilbanks scored a pair of TDs for a commanding 34-6 cushion.
Wilbanks found the end zone by rushing the final 37 yards for a score. Moments later he added a 61-yard punt return for a score.
Wilbanks finished the contest with 229 all-purpose yards with 132 of those rushing. He also caught one TD pass for 36 yards in the first half.
"He has a great change of pace, speed back and he has great vision," Guzman said of his junior running back. "He can turn nothing into something real quick."
The Winslow coach also lauded the effort turned in by senior Mason Scott, who rushed for 163 yards on 21 carries.
"Mason is our workhorse," Guzman said. "He is the team captain and leader for us. How he plays determines how the games will go for the rest of the Bulldogs."
Defensively, Winslow sacked MV quarterback Andrew Sheppard seven times and his unit came up with three interceptions.
"They like to throw the ball so we had a lot of one-on-one matchups," Guzman said. "We have some athletic defensive linemen on the field and they can run to the football."
Monument Valley coach Bryan Begay said his young team didn't play as well as they would have liked. He said they had some tough luck with some dropped passes and bad tackling.
Those youthful mistakes were pretty evident during Winslow's scoring spree, Begay said.
"As a staff we have to do a better job of putting our players in position to make plays," he said. "As players, they have to execute the call and they have to make sure they trust their teammates to do their jobs."
With that in mind, Begay wants his team to run full speed to the ball as they missed some key tackles.
"We were out of position a number of times," he said.
Offensively, Begay said they've made some improvements since the start of the season as his team scored four TDs in the final stanza.
Sheppard was involved in two of those scores. The sophomore QB started the rally with a 21-yard rushing TD and after a Winslow score, Sheppard connected with sophomore wide receiver Stephen Hale for a 15-yard TD pass.
Late in the contest, MV tallied two more scores with senior Bensen Jones and sophomore Devaughn Poorman scoring inside the red zone.
Jones ran in the final 16 yards in one drive and Poorman added a 5-yard score in another successful drive.
"We did a better job of running the football this week than the previous week," he said. "We did a better job of blocking the front to run the ball, and our receivers got in good position to catch the football."
Nonetheless, the MV coach is looking for his team to be a little more consistent, especially against a team like Winslow.
"When you're not in position to stop them offensively, you've got to match them in every series," Begay said. "We're just not consistent enough to be able to do that right now."
Winslow will host Page on Friday night while Monument Valley is looking to regroup by playing Queen Creek American Leadership Academy on the road.
---