Spread thin, Rehoboth girls focus on best effort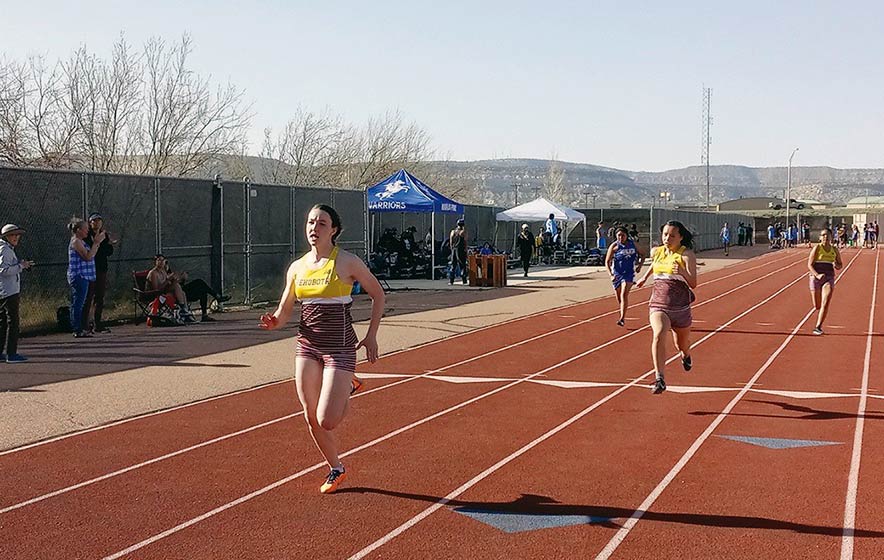 REHOBOTH, N.M.
There is a different look for the Rehoboth Christian girls' track team.
Last season, the Lady Lynx made school history by collecting its first state title in track behind a bevy of sprinters.
The Lynx return half of those girls as they are seeking individual efforts for the upcoming Class 2A state meet, which starts on Friday at the University of New Mexico Track-Soccer Complex.
"Obviously, we want to take first but we're looking at how can we win the 200s, or how can we win the medley or the 4×200," Rehoboth coach Jeffrey Kempton said. "Those events are more of our strong points and we're looking ahead of not scoring as many points as we did last year because we don't have as many girls in all of the events."
In other words, the Lynx are spread thin compared to teams like ATC and Cloudcroft, the two teams Rehoboth beat to win the state title.
"ATC is looking strong again with lots of girls up there, so we're shooting for individual high points," Kempton said.
Rehoboth returns Naomi Phillips as the senior is looking to defend her 200 crown.
"It's definitely different this year," Phillips said. "We've lost a lot of people, but I think we're excited for it to be different. It's gonna be more competitive, but we're still excited to go and compete."
Admittedly, Phillips is feeling the pressure to repeat but she's taking her last high school meet with nothing to lose.
"I'm trying to look at it as just having fun," she said. "I want to have fun because I've worked hard and every year changes. Every year there is a different pool of girls and I'm just excited to compete against them."
At the district meet, Phillips took first in the 100- and 200-meter races, clocking in at 13.54 and 27.64. She also won gold in the high jump with a 4-feet, 4-inch effort.
The Lynx also got a clean sweep from senior Nina Francisco, who won gold in both the 1600- and 3200-meter races. Her times were 6:31.54 and 14:07.64.
"I think I did OK, but it could have went more better," she said.
As for the state meet, Francisco said she's hoping to make the podium this year.
Senior Kari Kallestewa was another Rehoboth athlete that nabbed two district titles, winning the 100-meter hurdles (18.04) and the long jump (14-04).
"I'm pretty confident in knowing that I can push myself harder and go for the distance and time I want," Kallestewa said of her events.
She also helped the Lynx to a first-place finish in the 4×100 relay race.
"Our team is really solid and I love that our girls are really fast," she said. "It's just amazing that I get to go to state in more than two events. I'll have a full load at state."
On the boys' team, Rehoboth got junior Charles Lynch qualified in the 3200s and high jump.
He placed second in the 3200s with a time of 11:48.44.
"I matched a PR," Lynch said.
In the high jump he cleared 5-02.
"I'm hoping to show growth," Lynch said of the state meet. "I did a lot of preseason work and I'm hoping to see some of that growth. I've seen some of it this year and I'm hoping to grow more."
---