Ganado netters repeat as champion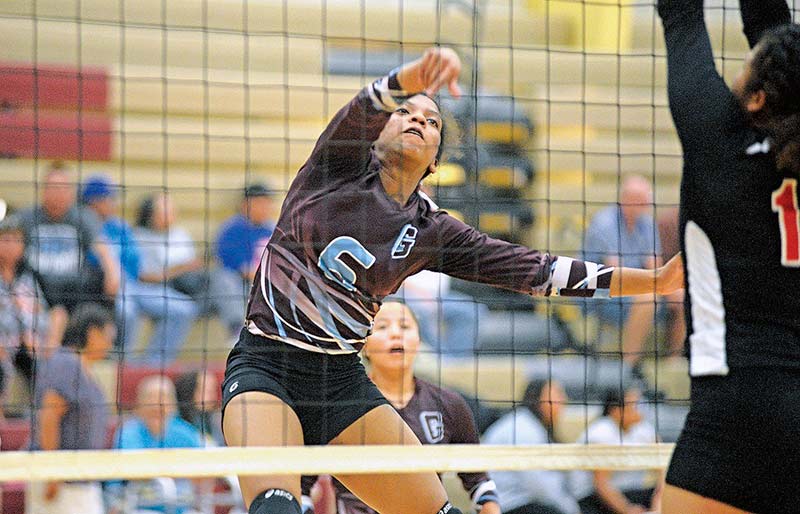 REHOBOTH, N.M.
For the second time on Saturday, the Ganado volleyball team demonstrated their versatility and firepower during the 2016 Rehoboth Christian High School Volleyball Tournament.
The Lady Hornets swept both Ramah and St. Michael in straight sets to repeat as champion. Ganado defeated Ramah 25-12, 25-14, 25-16 earlier in the day to reach the championship game in the eight-team bracket.
Ganado then took care of St. Michael, 25-18, 25-15, 25-14, in the tournament's finale. Nevertheless, the Lady Cardinals gave Ganado an early scare by taking a 7-1 lead in the opening frame thanks to some good swings at the net.
St. Michael put down four early kills with junior middle hitter Delila Nakaidinae hitting a pair. The lead was pushed to 4-0 after a stuff by junior blocker Autumn Jim.
After a side out by Ganado, the Cardinals went back to work with Jalynn Smith and Sydney Terry each recording a kill that prompted Ganado coach Jerome Burns to call a timeout.
"St. Michael came out on fire," Burns said. "They wanted to go after us and they got me worried. They were running that middle attack and they were blocking us and it worked."
Admittedly, the longtime Ganado coach said the Cardinals had his club on their heels but as the match progress they found their footing.
The Hornets bounced back with an 11-3 run with senior outside hitter JaeLynn Curley displaying her finesse with three nicely placed hits while freshman middle hitter Michelene Coleman established some control at the net with a pair of kills and a stuff block.
Later in the set, Coleman pounded a hit down the center to initiate an 8-0 run. She then served seven straight points with four of those points being recorded as aces for a 21-15 Ganado lead.
St. Michael never recovered as Ganado took the first set 25-18.
"We definitely started off strong and for us it's still the start of the season," St. Michael coach Andrea Ashkie said. "We're still working out our game and Ganado played us tough. They showed us what we needed to work on."
---