Navajo netters crucial to Quemado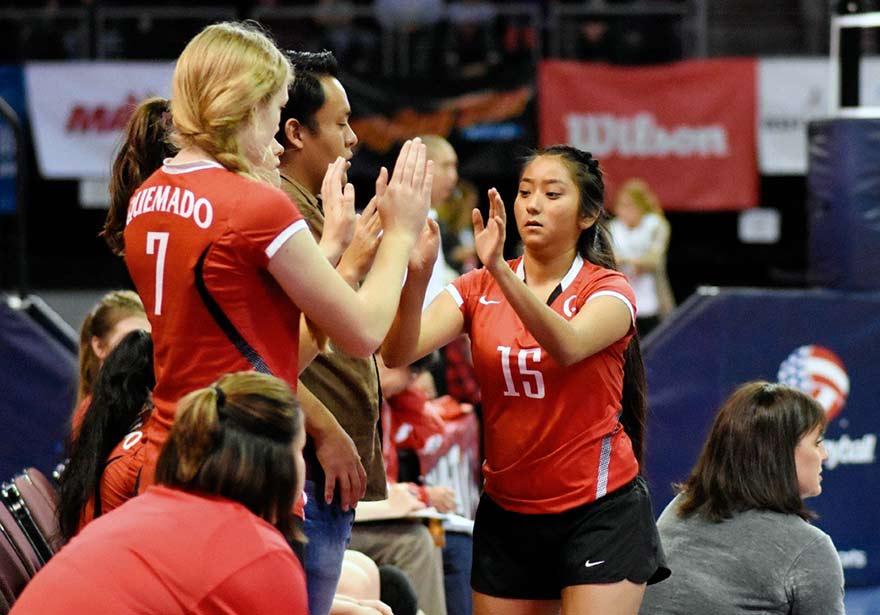 RIO RANCHO, N.M.
For Rosie Martinez and Kirshawna Cohoe, age is just a number.
As underclassmen members of the Quemado High School volleyball team, the two sophomores have learned to fill big roles and play up when necessary.
Quemado's two Navajo players played pinnacle roles in crucial matches including ones in the New Mexico High School state volleyball championships held over the weekend.
Quemado head coach Nichole Sanders said the two contributed to the overall success of the program including the state playoffs.
"They both have a lot of heart and they're both very, very coachable," she said. "We lost three really good seniors last year so they kind of helped us on the bench … They didn't fall apart on me and I was afraid they might because they were young."
The two, who share a close relationship, call each other "Cousin" even though they are technically aunt and niece – Martinez is an aunt to Cohoe.
They have played for Sanders since they were in the sixth grade.
Sanders said she watched them closely and how they developed together and independently.
"They're both pretty small so I use them as defensive specialists, but they both serve extremely well. I think they follow through with what they're supposed to do," Sanders said.
Sanders said about 15 percent of the school population is Native American while the other larger percentage is mixed.
She said the fact alone suggests how special the two are as they have a knack for being a little more confident and less timid.
Rosie Martinez, the older of the two at 16, said it was easy to step up and fill shoes as a young player because she understands and believes in the overall goal of the program.
"I think we've grown and improved, and learned how to be more communicative," she said.
Cohoe, 15, said their coach has always pressed the idea that the team comes before the individual person and that is something she believes in.
She said she found it easy to step up and fill roles as a young player because she believed she could.
"We try to get to where we … can come as a team and work together to be a tight little family," Cohoe said. "It's team before me."
---