Aztec grappler wins third Doc Wright title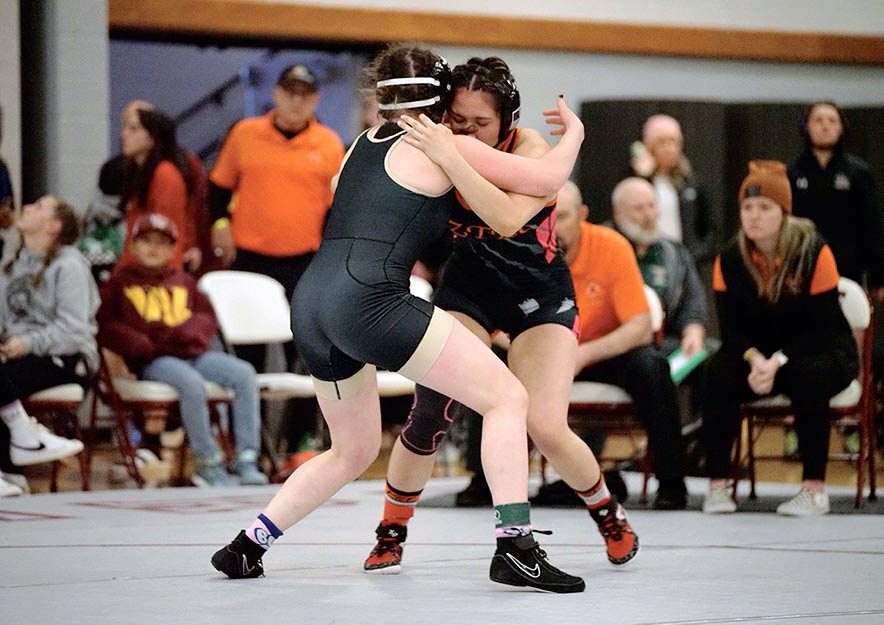 WINSLOW
Since girls wrestling has become an official prep sport, Aztec's Makayla Munoz has built an impressive résumé.
She has compiled an 108-1 career record in the four years that she's wrestled.
At the recent Doc Wright Invite, Munoz won the 145-pound weight class as she has gone 3-for-3 at the Winslow High-hosted tournament.
Last year, she won the 126-pound weight class. Her freshman year she was the 130 champion. During her sophomore season, the tournament was canceled due to the global pandemic.
"I'm very blessed to have this opportunity," Munoz said. "I'm excited that I'm able to have competition on the mat and wrestle.
"I love being on the mat, and just being able to give it my all," she added. "That is something that I look forward to, no matter what happens."
Munoz's lone loss came during the 2022 season when she was beaten by her cousin, Isabelle Munoz, during the Veteran's Memorial Invitational, which was hosted by Window Rock High.
At that tournament, Isabelle of Casteel High School (Arizona) defeated Makayla by a 4-0 count in the 132-pound semifinals.
"We were supposed to face off today, but she messed up her shoulder," Makayla said of her cousin.
At this year's Doc Wright, the Aztec senior pinned all of her opponents, including a first quarter fall over Round Valley's Sonora Harper.
Afterward, the Round Valley wrestler carried Munoz around the mat for a victory lap.
"I know that how I perform in practice is how I'm going to perform on the mat," Munoz said. "If I want results, I know I have to put in the work and effort, and I'm willing to put in 110 percent."
As a three-time state champ, she is looking to be New Mexico's first female to win four state crowns.
"I'm looking forward to the rest of the season," Munoz said. "I'm kind of nervous because it's my last year, so it's been kind of crazy. It just flew by, and I'm not ready to let it go, but at the same time I'm looking forward to what's to come."
Later this summer she's going to be competing at the 2023 Woman's Fargo Nationals in mid-July. After that national meet, Munoz will join her collegiate team at Oklahoma City University.
OCU is one of the elite programs at the collegiate level, having won four WCWA championships and five national titles at the NWCA National Duals.
"Honestly, I'm extremely happy that I get the opportunity to be with them because I'm going to be able to learn a lot from coach (Nicole) Tyson," she said. "I'll have some girls on the team to look up to, so I'm extremely thrilled about that."
---