On the bubble: Holbrook girls looking for strong finish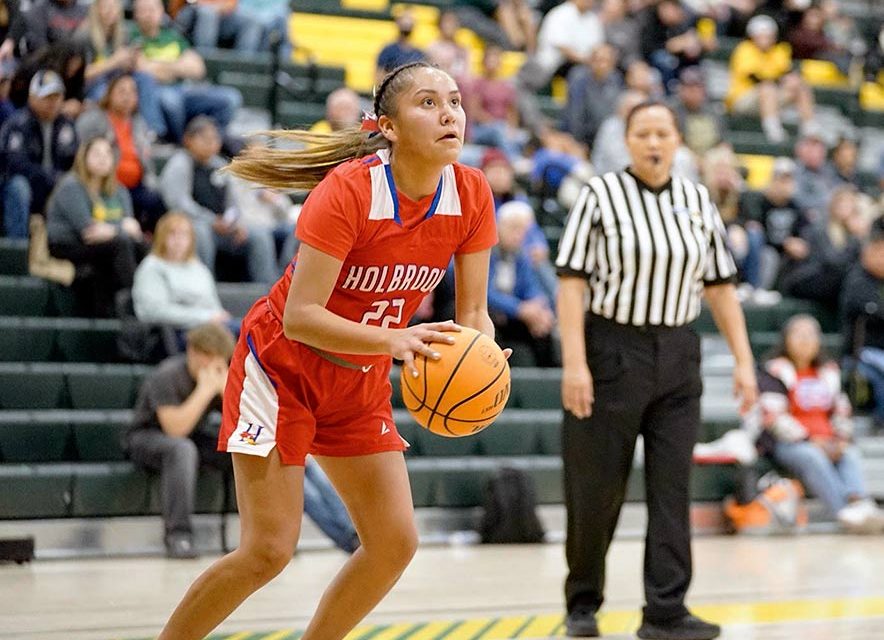 SHOW LOW, Ariz.
Holbrook girls basketball coach Greg Perkins says his club needs to win at least three more games to make the playoffs.
The Lady Roadrunner have opened 3A East play with an 0-2 record, which includes last Friday's 32-27 loss to the Show Low Lady Cougars.
"We made the state tournament 14 years in a row, and we don't want to miss out this year," he said. "We hope to be part of that craziness, but it's gonna be tough.
"I mean, there's nothing easy on our plate," he said. "We got Winslow, Snowflake, and Payson twice. We got Show Low again and Blue Ridge again, and they beat us by five points."
As of Tuesday, the Roadrunners were on the bubble in the latest Arizona Interscholastic Association statewide rankings at No. 23.
With an inexperienced group, Perkins said they lost four games by a combined 100 points early in the season.
"That's never happened in my career, but we've learned from it," he said, while adding that as of late they have gotten better.
At the recent Chandler Prep tournament they went 3-1 in late December and he was hoping that momentum would carry over in conference play.
"We've been playing better, but we have to pull it together," Perkins said. "Like I tell the girls the clock ticks; the clock is not going to wait for us. The season doesn't slow down for anybody to catch up. And we're still playing catch up, but we know we got to beat some good teams to make the state tournament."
Perkins said last Friday's game was "winnable."
"We were missing one of our starters tonight and I thought we played really well, defensively," he said. "I told the girls that if we can hold a team to 32 points we should win. Our goal is actually 40 for every game.
"We held a pretty good team to 32 points, but we didn't get that many offensive possessions," he added. "We just didn't make enough of the ones we did have."
And although they made six treys, Perkins said his team made 1-of-5 free throws.
"That hurts," he said. "It was a winnable game. It was within our reach but give credit to Show Low. The did what they needed to do down the stretch."
In that last stretch, Holbrook trailed 28-27 and they had an opportunity to take the lead, but they turned the ball over on an inbounds play at midcourt.
"It's all about timing and we ran our play before the referee gave us the ball," he said. "I think it kind of threw our timing off, but we didn't do a very good job of handling the ball pressure.
With Show Low taking over, Holbrook was forced to foul and the Cougars led 30-27 with 15.2 seconds to go.
After another Holbrook turnover, Show Low's Raquel Wilson iced the game with a pair of free throws.
"They hit a couple of big free throws there at the end and I give Show Low a lot of credit for that," Perkins said. "They stepped up when they had to, and I thought we had a chance to get one on the road."
Sophomore guard Deya Guerro led Holbrook with nine points on three treys while junior Raelle Yazzie added eight markers and sophomore Alyana Yazzie chipped in five.
Perkins said Alyana Yazzie and Guerro have some varsity experience as they played some minutes last season.
"They're key players for us," he said of his sophomore guards.
"Alyana has started every game and she keep us running on where we need to be," he said. "She'll be a big part of the program for the next couple of years."
As for the conference race, Perkins said Snowflake is the team to beat with Winslow not too far behind.
"I think Snowflake is the best team right now, especially since they got their volleyball players back," he said. "Winslow is up there as well.
"I think we need to get three more wins," he added. "If you look at our schedule it's going to take a big effort to get three more wins with this group that I have. Hopefully, they'll figure it out."
---