Bloomfield, Aztec heads list of wrestling all-stars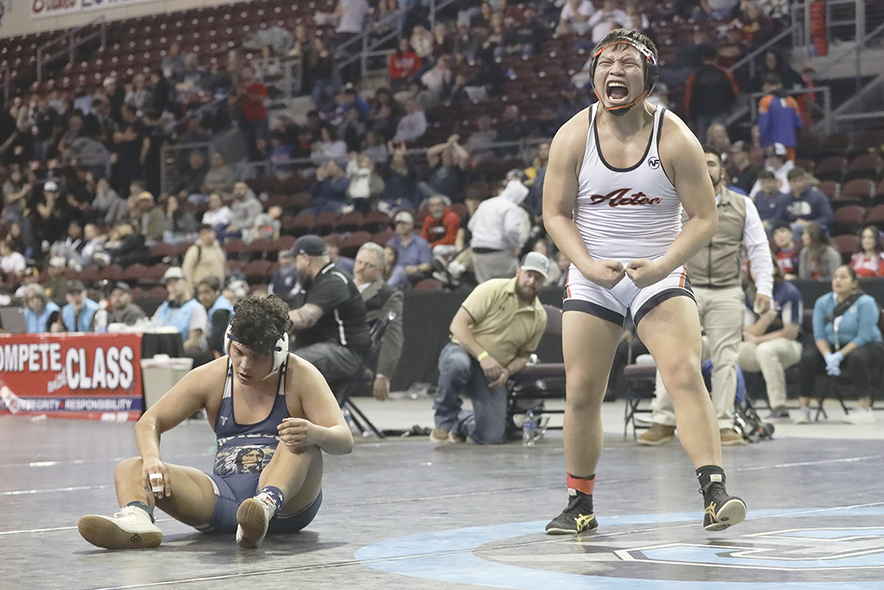 WINDOW ROCK 
(Editor's note: The Times' boys and girls basket all-stars will be released next week.)
Eleven state champs highlight this year's class of all-stars for boys wrestling.
The Bloomfield Bobcats heads that group with four individual winners followed by the Aztec Tigers with three state champs.
Farmington, Holbrook, Piedra Vista and Snowflake got one each.
With a bevy of state champs and a second-place finish at the New Mexico Class 4A state wrestling championships, Bloomfield coach Jason Luster earned the coach of the year award.
Luster shares that honor with Holbrook coach Markos Serna.
The Bobcats lost the state title by a mere half-point to the Belen Eagles.
Despite losing the state title, Luster was pleased with how his team competed.
"They put everything they had on the mat," the Bloomfield coach said of his squad. "I couldn't be more satisfied with their season."
All told, the Bobcats had seven wrestlers earn state medals.
At Holbrook, Serna got six wrestlers on the podium as the Roadrunners took third at the Arizona Division IV state wrestling meet.
The Serna-coached team earned most of its points in the middle weight division as it finished with 101 points.
"It's amazing and I was happy for them," the fourth-year coach said. "It was pretty surprising, but these kids worked really hard to get to this point.
"We took fourth at sectionals, but I knew we had the kids to get up there and be in the top three at state," he added. "I knew that we could get anywhere from four to seven kids to place. It really depended if the kids showed up."
Serna said having six kids earn state medals was the most they've had in recent years.
Heavyweight
In the heavyweight division, Snowflake wrestler Devin Kinlicheenie and Aztec's Jaylen Ignacio were named wrestlers of the year.
Kinlicheenie compiled a 49-0 record after claiming the Arizona Division III state title in the 215-pound weight class.
The win in February was the sophomore's first state crown after placing sixth the year before.
"I felt like I could go undefeated," Kinlicheenie said. "I mean, all my brothers, partners and coaches helped me work hard during the summer to earn this."
In the finals, the Snowflake wrestler won the match when his opponent got disqualified.
With a state title in tow, Kinlicheenie said he's looking to end his prep career with two more state crowns.
"I want to be a three-time state champion," he said. "I know that I can do it and my dad (Celestine) has a lot of faith in me. He told me that I have to work real hard and sacrifice most of my time to wrestling."
At the New Mexico 4A state wrestling meet, Ignacio captured his second straight crown in the 215-pound division.
The Aztec junior finished the season at 52-2 overall, winning the state title over Ruidoso's Isaiah Chavez with a pin.
"I never wrestled him before," Ignacio said. "You just have to take control of the match and just dominate on top. I just kept fighting him, fighting him and just break him. And at the end that's where I pinned him – he was broken."
Middleweight/lower weight
At 172 pounds, Farmington senior Ivan Smith captured his second consecutive state title in the large school division.
Smith capped his four-year prep wrestling season with a 43-1 record after pinning Tomas Herrera of Gadsden in the 172-pound finals in Class 5A.
"Winning state back-to-back proves how much work I put in," Smith said. "Nothing is ever guaranteed and nothing is ever promised."
Smith plans to wrestle at the collegiate level at New Mexico Highlands University in Las Vegas next year.
In the lower weight division, two wrestlers finished the season with flawless records with Aztec junior Bryson Valdez and Bloomfield senior Adan Benavidez winning state titles.
The two wrestlers were named wrestlers of the year along with Holbrook senior Jason Ramirez, the Arizona Division IV state champ.
Ramirez finished the season at 62-1 overall as he captured his first state crown by winning the 132-pound division.
As a four-time state qualifier, Ramirez worked his way up the ranks as he took third at state his sophomore season and second last year.
"Honestly, this marked the end of my high school career," Ramirez said. "I finished off with a bang and all that grit, tears, sweat and blood on the mat was all worth it because I finally got that state title that I've been wanting all these years."
As the tournament's top seed, Ramirez showed his dominance by pinning all of his opponents, including a second period fall over third-seed Morenci's Mickey Casillas in the finals.
"I went into state with the mindset that I wasn't going to let anyone slide," Ramirez said. "I didn't want to make it easy for them, and I just went out there wanting to put them on their backs."
In the New Mexico 4A 121-pound finals, Valdez earned a 3-0 decision over St. Pius X freshman Valentine Popadiuc, running his record to 46-0 this past year.
His latest title earned him his fourth straight crown as he improved his career record to 137-1 overall.
"No. 4 (state title) was a battle," said Valdez who pinned all of his opponents. "The kid was tough but I'm a dog, he's a dog but I came out on top today. It was a fun, tough battle. That's what we train to beat the good guys. No. 4 was kind of surreal. My eighth grade year was the best. Freshman and sophomore year was when I grew as a person. This one I was trying to be the best out there.
"I'm going for No. 5 next year," Valdez added. "No. 5 is in sight. There has been four (wrestlers) that have won five."
At 133 pounds, Benavidez put the finishing touches to his superb 50-0 season record by posting a tough 4-2 decision over Moriarty junior Jonathan Valdez in the finals.
For Benavidez it was his third state title.
"I would say winning my third state title was an honor because I'm the first three-timer from Bloomfield," said Benavidez, who plans to wrestle at Kent State University.
All-Stars
Bryson Valdez, Aztec
Tony Thompson, Aztec
Jaylen Ignacio, Aztec
CJ Saiz, Aztec
Taner Olguin, Aztec
Logan Barboa, Aztec
Jacob Greyeyes, Aztec
Gunner Samora, Bloomfield
Hunter Samora, Bloomfield
Elias Johnson, Bloomfield
Adan Benavidez, Bloomfield
Sameul Eveland, Bloomfield
J Gutierrez, Bloomfield
Robert Williams, Bloomfield
Prayer Young-Blackgoat, Coconino
Damien Manygoats, Cortez
Ivan Smith, Farmington
Brayden Harvey, Farmington
Julian Juarez, Farmington
Logan Cambridge, Farmington
Daxton Allison, Farmington
Wycolt Henry, Farmington
Isaac Foutz, Farmington
Cody Billie, Farmington
Santana Pablo, Gallup
Jacob Duncan, Gallup
Jalen Denetclaw, Gallup
John Toadlena, Gallup
Cauy Curley, Ganado
Cimmaron Curley, Ganado
Manuel Gonzales, Grants
Larry Meador, Grants
Jason Ramirez, Holbrook
Judah Pack, Holbrook
Daniel Montijo, Holbrook
Marcus Oberriter, Holbrook
Isaac Martinez, Holbrook
Christopher Moore, Holbrook
Chase Gibbs, Kirtland Central
Jeryn Dodge, Kirtland Central
Chance Aspaas, Kirtland Central
Austin Lopez, Miyamura
Adam Abdeljawad, Miyamura
Hunter Gonzalez, Miyamura
Jeremiah Yazzie, Miyamura
Delray Halkini, Miyamura
Nathan Jim, Miyamura
Joseph Rodriquez, Monument Valley
Matthew Curley, Monument Valley
Davin Salt, Monument Valley
Rigdon Begay, Mountain View
Nolan Dempsey, Newcomb
Isaiah Viola, Newcomb
Aydreyan Begay, Newcomb
Ashton Penrod, Page
Conner Peterson, Page
Tsinajinnie Green, Page
Landon Mansker, Page
Ian Yellowhair, Page
Keenan Bejar, Piedra Vista
Zander Bahri, Piedra Vista
Reed McCarty, Piedra Vista
Hayden Goodluck, Shiprock
Jaylon Begay, Shiprock
Damien Kinlicheenie, Snowflake
Troy Kinlicheenie, Snowflake
Marcus Denny, Whitehorse
Alroy Mike, Whitehorse
Malakai Rentz, Whitehorse
Kelan Dee, Whitehorse
Ryan Kee, Window Rock
Theodore Dodson III, Window Rock
Andrew Wood, Window Rock
Ethan Tabaha, Window Rock
Kayano Smith, Wingate
Michael Romero, Winslow
Rudy Gonzalez, Winslow
---