Dinétah-Poly, a 'labor of love'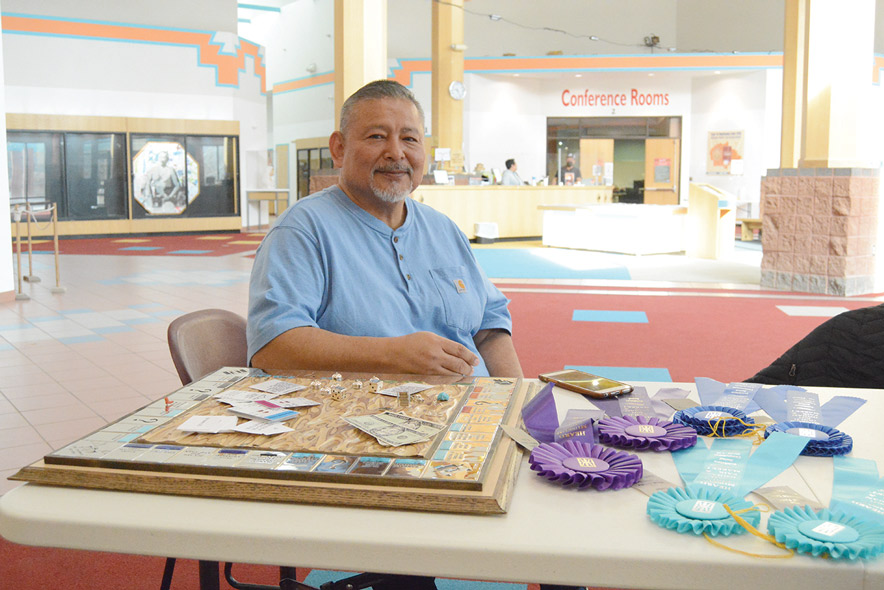 WINDOW ROCK
Raynard "Ray" Scott, a Diné silversmith, won Best of Show at the 65th Annual Heard Guild Indian Fair & Market earlier this month with his entry of a Diné culturally inspired board game "Dinétah-Poly," which incorporates Diné terminology, traditions, mythology, and stories.
Scott is Kinyaa'áanii, born for Dziłtł'ahnii. His maternal grandmother is Honágháahnii, and his paternal grandfather is Tł'ááshchí'í.
Scott was born in Los Angeles and grew up in Wide Ruins, Arizona. He attended grade school in Window Rock and Ft. Defiance; he went to high school in Winslow and graduated from the University of Arizona. He is also a single father of four adult children with their own families.
Expanding skills
While in college and needing to balance the stress from his studies, tests, and life away from home, Scott felt he needed an outlet aside from school, so he decided to pick up the tools that his parents used during their years of jewelry-making.
He played around with his creations throughout his college years. He developed and expanded his skills, eventually leading him to become a silversmith for over 40 years while practicing his passion and making a livelihood to support his family.
The concept of Dinétah-Poly incorporates days in the life and representation of a Diné on the "rez."
His idea for the board game came some years back, but not knowing where to start, he made several attempts to test out a few ideas, but each time, he said it just wasn't quite right.
Without getting discouraged, he relied on a feeling or belief that it wasn't working for a reason, and he put it away until the next attempt.
With a lot of spare time, after the COVID-19 pandemic began, he tinkered with various projects passing the time to satisfy his creative bug. He had a slab of plywood and began carving into it, quickly noticing that the results were quite different than expected.
Feeling curious and excited, he continued to carve into the slab. The colors of the waves of grain and depth revealed themselves, sparking a surreal and comforting resemblance to the earthy landscapes of Dinétah.
"It was just a feeling," Scott said after carving into the first few layers. "The more and more I carved, it just started to guide me. It presented itself, and everything else after that just came together."
Creating the game board
In February 2022, Scott began working on the board. Every part of the board was constructed by hand. He harvested the stones from surrounding areas traveling miles to Santa Fe, Albuquerque, Calico, and Safford to collect the right ones, researching locations, facts, and Diné history for the overall design taking him almost a year to complete.
Scott enjoyed revisiting actual and commonly known references and locations throughout the Dinétah to place as properties on the board, like Nizhoni Place, Canyon De Chelly Drive, Coffee Pot Road, Washboard Road, Glittering World Place, and Code Talker Avenue.
He hand carved, not stamped, each space on the board, cutting all the letters with a jeweler saw, which took quite a bit of time.
The property cards are full of Dinétah history, facts, and favorite past-times of living on Navajo.
All four Diné sacred mountains are represented on the board with correlating-colored stones. White shell for the east, turquoise for the south, abalone for the west, and jet (black) for the north. Each stone on the board was rough, having to be hand-made to place in the inlay he carved for the stones.
Scott enlisted the work and help from famed Navajo Times cartoonist Jack Ahasteen, who lent his artistic talent to this historic piece of Navajo art illustrating his famous cartoons on the currency.
The player pieces are also made from silver, like the spaces on the board. The pieces are of what we see every day living in Dinétah. There is a nálí herding her sheep, a weaving loom, a cheii on his horse, a moccasin, a stone of turquoise, a "rez" truck, and hogans for the rental properties, and the dice are full silver cubes.
Coveted award
Santa Fe Indian Market and Heard Museum Guild Indian Fair & Market are annual events for Scott to attend as a guest and artist. The Heard is one of the largest Indigenous art markets in the world and draws nearly 15,000 visitors and more than 600 of North America's most preeminent Indigenous artists.
Each year, many of the fair artists submit their best work to compete for a coveted Heard Museum Guild Indian Fair & Market award ribbon and prize money. A renowned group of judges, composed of artists, collectors, and museum professionals, review and rate each submitted piece. The winning artwork is displayed during the "Best of Show" evening gala.
As he worked throughout the year inching closer to the finished product, he said something kept urging him to finish and enter it into the Heard show, which didn't take long for him to do just that.
It was a family affair as Scott was joined by his children and grandchildren at the Heard market. The warm and eventful day was filled with thousands of people from all over the country adoring and appreciating the talents of many Indigenous artists.
Visitors, both Indigenous and non-Indigenous, stopped to talk with Scott. He fielded a lot of questions, of course, about the game but mostly about questions about Navajo culture and life.
Best of Show
It was important to him to share with everyone that stopped by to talk with him that every part of the board has a meaning in Diné culture. He shared some Navajo stories and history and is proud that his art is also an opportunity to educate non-Navajos about who the Diné are.
What mainly stood out to Scott were the questions from the non-Indigenous because many of their questions highlighted the need for Diné and all Indigenous to continue to thrive in mainstream culture and tell Native stories.
"Navajos are creative, we are talented, and our ingenuity still holds true to who we are," Scott said.
"Most non-Indigenous think of us as introverted or stoic. What Dinétah-Poly demonstrates is our sense of humor and socializing. It feels good to show what people don't really see about us," he said.
As the day progressed from a steady crowd flow, he saw a group of Heard officials making their way through the market and eventually stopped to talk with Scott and his family.
At that moment, the officials pulled him and his family aside and congratulated him on winning the blue-ribbon honors and the $25,000 prize for winning Best of Show.
"I was speechless. I couldn't find the words. It took us all a few seconds of blankly looking at each other until it set in, then collectively, I think we let out a few screams in excitement," Scott said. "It was an amazing moment, especially to share that with my family. Under this tough shell, I had tears. It was emotional, and we all had tears full of gratitude and joy."
Since being awarded Best of Show, Scott has received a few offers from private collectors and museums nationwide.
He fears the downside of selling to a private collector is that the teachings would be silenced, as they would likely end up unheard on someone's coffee table.
Ultimately, he would like Dinétah-Poly to be on display in a museum setting so that future generations of Diné have that connection and for all walks of life to see and learn a little bit about life on Dinétah and its culture.
"It would be something to leave a legacy for my grandchildren and their kids, for them to go to the museum and see what their cheii did for his Diné," Scott said.
Heard Museum's research director, Ann Marshall, said, "Today's artists are finding new ways to make important and moving statements about their land and the life of the land."
It has been a few weeks, and Scott says he is still processing the experience. From the beginning to now, he reflected on the process and felt an overwhelming sense of gratitude for what this experience surfaced for him.
"It was a labor of love, and it was a lot of work. It took a lot of patience," Scott said. "It felt that this––all of this was meant to be, the feelings that surfaced throughout, it felt like it knew and waited for its time to make its introduction to the world, it was ready."
Scott enjoys what he does and offers some advice that it is crucial to find a path, one's journey, and direction and do it with passion.
The most important teaching he wants to leave for his children is the importance of learning the Diné culture. It is the role and responsibility of all Diné to keep their stories, culture, and traditions alive.
---