Building camaraderie: Sheep Camp club boasts most athletes in wrestling tourney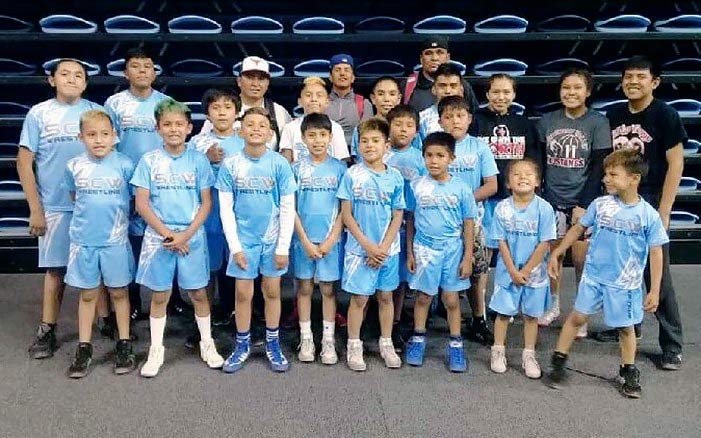 FORT DEFIANCE
Of all the clubs taking part in the 3rd Annual Summer Border Wars Wrestling Folkstyle Challenge, the Sheep Camp Wrestling team had the most participants.
They also earned the distinction of having the most unusual name.
Ryan Hunt, who wanted to keep his younger brother LeVaughn Hunt engaged during the offseason, started the Kayenta-based club 13 years ago.
"My older brother developed the club so that me and buddies could enter some wrestling tournaments in the summertime," LeVaughn said of older sibling. "We threw a couple of names in the air for the club and Sheep Camp Wrestling was the name we stuck with."
LeVaughn has taken over the reins of the program and this past year they registered 59 kids to the wrestling club.
"One of my goals is to help build the sport in my community," Hunt said. "I know wrestling is not a huge sport like basketball on the reservation but I want our Navajo kids to be competitive in wrestling during the offseason."
So far this season the team has competed in five tournaments including last Saturday's Border Wars challenge that was hosted by Window Rock High.
"The kids are showing promise," Hunt said. "Through our program they have learned to discipline themselves and they are starting to figure things out on the mat."
With the help of his nephew Xavier Hunt and Jeremiah Manheimer, two former Monument Valley grapplers, the Sheep Camp Wrestlers had almost every bracket filled with 23 kids wrestling.
"This was started by my dad and we just have a passion of teaching the kids what we've learned," Xavier said.
As a past club member in his teens, Xavier said it helped him develop his skills. His involvement facilitated his prowess on the mat at the high school level as he placed fifth at state during his senior season three years ago.
To show that they did wrestle in high school, Xavier and Manheimer also took part of the tournament over the weekend with the latter taking second in his division while the former placed third.
"I'm doing this for the kids," Xavier said. "I want them to see that their coach can still wrestle."
---