Too long at the fair?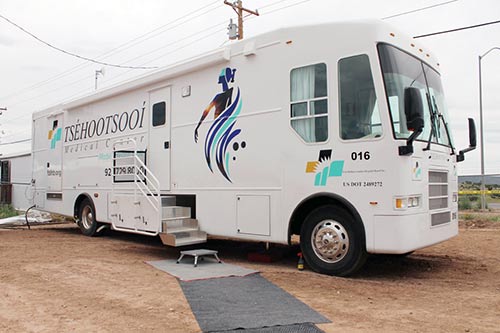 TMC mobile unit patches up NNF injuries
WINDOW ROCK
With an estimated 100,000 in attendance for the 70th annual Navajo Nation Fair in Window Rock — including rodeo cowboys, children gorging themselves on fair food and shaking themselves up on carnival rides, and adults overindulging in certain beverages — there was surely a need for medical attention.
And the Tsehootsooi Medical Center was right on site, parking one of its two mobile units on the fairgrounds.
"This is our first year here and we are looking forward to providing medical care and awareness of Tsehootsooi Medical Center," said Gilbert Wolf Palley, Interim Chief of Emergency Medicine of TMC, as he prepared to open for the fair.
The staff of TMC gave the Navajo Times a tour of the unit while planning for the busy fair weekend.
"We really want to give people the opportunity to come, be treated and then leave and go back to the fair to continue enjoying their time," said Gwen B. Beyer, project manager and care coordinator for TMC's Department of Emergency Medicine.
As it turned out, staff treated lacerations, a lot of sprained ankles, respiratory problems and rodeo injuries over the weekend.
"Every patient that came to see us was treated with 100 percent attention," said Beyer.
---