Many Farms grazing official claims Naize seat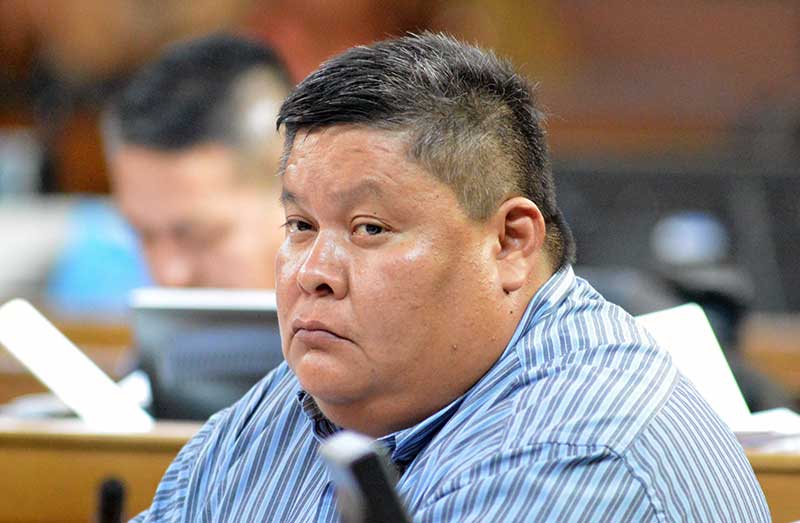 ABOVE: Newly sworn-in Navajo Nation Council Delegate Roland Tso listens to fellow delegates discuss a bill during a special session on Thursday in Window Rock. Tso replaced former Speaker of the Council Johnny Naize. (Times photo – Donovan Quintero)
---
CHINLE
Many Farms Chapter's grazing official and former Council candidate Roland Tso has been appointed to serve the unexpired term of Council Delegate Johnny Naize, who resigned in September shortly before pleading guilty to conspiracy to commit bribery.
Naize's term expires in January.
Tso, who has served 18 years as a grazing official, has been an outspoken advocate of conservation and better grazing practices. He helped advocate with the Arizona Department of Transportation for replacement of fencing and cattle guards along U.S. 191 and collaborated with the BIA and local ranchers on a pilot project for soil reclamation in Many Farms, which has been hard hit by drought and dune formation.
Tso also served for eight years as the executive board president of the Navajo Nation Soil and Water Conservation and 12 years as the chairman of the Many Farms Planning and Zoning Commission.
According to a press release from the Legislative Branch, Tso promised to continue his conservation efforts as a Council delegate.
"I am very thankful and glad to be here today," Tso is quoted as saying in the press release. "I am very happy to be taking part in this and believe I have a lot to bring to Council with the short amount of time that I will be here."
Tso, who is Totsohnii born for Bit'ahnii, will represent Low Mountain, Nazlini, Tachee/Blue Gap and Tselani/Cottonwood as well as his home chapter of Many Farms.
Speaker Pro Tem LoRenzo Bates (Nenahnezad, Newcomb, San Juan, Tiis Tsoh Sikaad, Tse'Daa'Kaan, Upper Fruitland) said his decision to appoint Tso was based on chapter resolutions to have him represent their communities.
"The people have spoken and support the appointment of Mr. Roland Tso as Council Delegate, and I respect their recommendations for an individual who they believe will serve in their best interest," Bates was quoted as saying in the press release.