Tohatchi girls reach pinnacle with 3A state title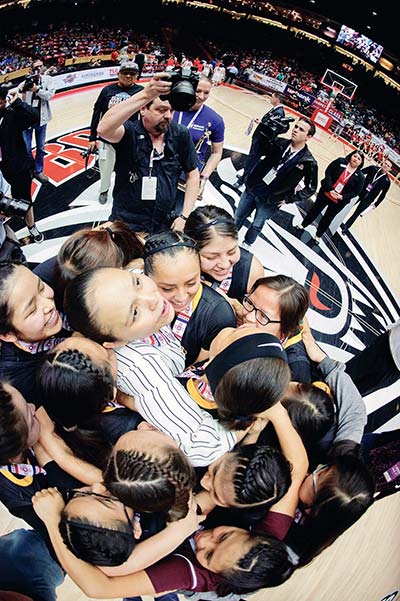 ALBUQUERQUE
Everyday since 2011 the Tohatchi Lady Cougars have been making small steps towards the top of the ladder.
And at the top of that ladder they imagined holding onto the blue and gold state championship trophy, something they have worked every day to get within an arms' reach of it.
Last Friday, in the 2017 U.S. Bank State Basketball Championships 3A title game, they finally reached the top of that ladder when they defeated Eunice, 57-50, for their first-ever girls' basketball state title.
SLIDESHOW: NM Basketball Playoffs 2017Tohatchi head coach Tanisha Bitsoi said their win came from seasons of planning, trial and error, and growth, and now they're happy to reap the reward and share it with those close to them.
"They've been on every ladder that we've taken from the Sweet Sixteen, to the Elite Eight, to the Final Four and now here in the champion game," she said. "We are very happy, very humble, and very proud. These young ladies were able to bring Tohatchi's very first state title, and as you can see the fans out there – they're loving it.
They love these young ladies, they've been there with them all season and there's no other words to explain it, but it's such a great feeling for the community, for their families and for the school."
The Lady Cougars were given the No. 3 seed going into the tournament and worked their way up the ladder and into the championship game with No. 1 seeded Eunice at the University of New Mexico's Wise Pies Arena.
Their road to the title game seemed easy, beating teams along the way by 20 or more points, but their greatest test awaited them when they met Eunice.
---