Diné Chef presides at NMAI's restaurant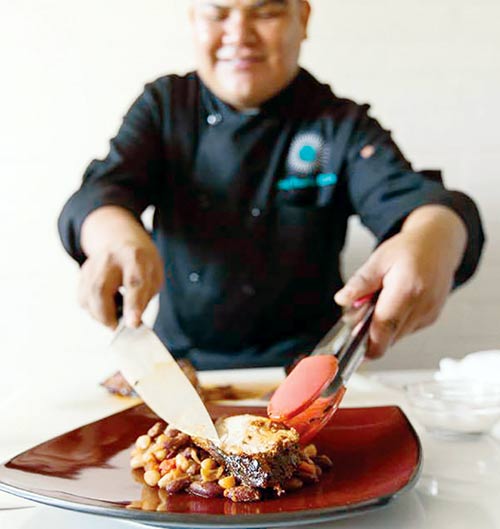 WINDOW ROCK
One chef from the Navajo Nation is mastering different foods from various Indigenous cultures in the most famous Native American restaurant in the country.
Freddie Bitsoie of Gallup was recently hired as executive chef at the Smithsonian National Museum of American Indian at the Mitsitam Cafe.
"Mitsitam" means "Let's Eat!" In the native languages of the Delaware and Piscataway peoples, according to the Mitsitam Cafe website.
Bitsoie oversees and plans the daily food for the cafe and coffee bar.
"I generally oversee the food department here at the cafe," said Bitsoie. His task includes not only prepping food from the Four Corners, but all Native communities; he'll have his cooks prep salmon and fry bread in one season like autumn, and in winter the menu will shift to winter foods popular among tribes.
Bitsoie researches the different techniques used to cook these foods in their traditional ways.
"A big part of it is prepping the food in their traditional ways of cooking," said Bitsoie. "Each culture has their own technique of cooking."
---