Navajo artist brings to life three-dimensional art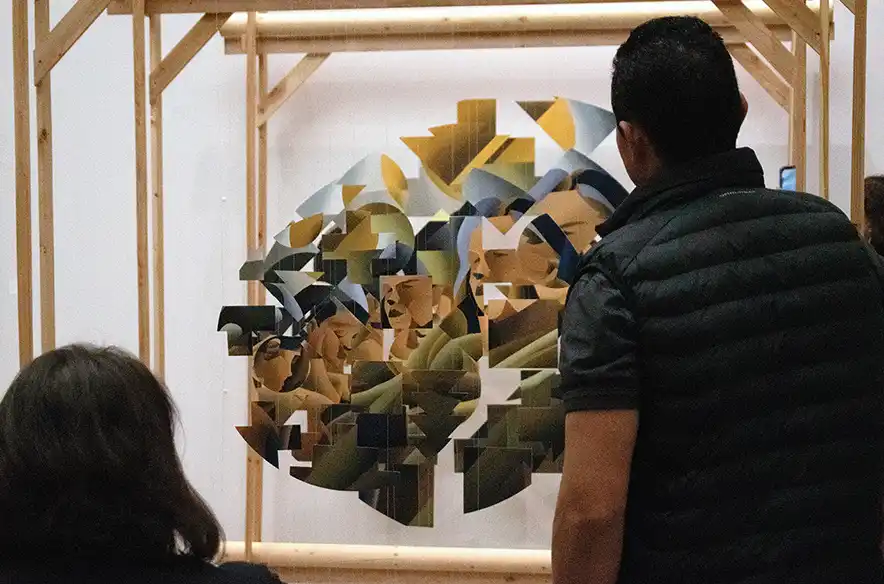 PHOENIX
Two Indigenous artists paint a new picture of what Native culture and history are, using art pieces their ancestors left for them.
Daniel Nez, Diné, celebrated his art exhibit opening, "Fractal Lineage," at the Chandler Center for the Arts alongside fellow Indigenous artists Jacob Menders, Mechoopda, and Maidu, who celebrated his art exhibit as well, "Familiar Territory," at Vision Gallery in Chandler, Arizona, Feb. 24.
"I feel humbled, this is my first solo show since my MFA (master's) thesis exhibition, so it's really nice to see all my bodies of work together, all sharing the same theme, all sharing the same story basically," Nez said.
Oral stories
Nez's exhibit, "Fractal Lineage," gives insight into oral stories passed down from elders of his Navajo community through fragmented pieces on either paintings or art installations that show a bigger picture.
The main attraction of Nez's exhibit was two art pieces composing four looms each. Each loom was spaced apart enough to allow attendees to walk in between.
Several attendees gave one look at the four looms, and all said aloud the same thing.
"I don't understand this."
Many attendees had their share of turning, twisting, bending, and sitting for a clear answer as to what the looms revealed.
But for Nez, it was simple. It's the Second and Fourth worlds of the Creation stories he grew up on.
"Sharing the cultural stories but also educating those who don't know who we are or where we come from for a little bit more of understanding down the road is, I say, important," Nez said.
The exhibition room was filled with Native and non-Native people – some even not initially there to learn about the Diné but did. And in a way, Diné have taught their traditions through storytelling.
"Us growing up as a tribe, as Indigenous people, there was a purpose behind everything we did," Nez said. "There was a purpose in creation, whether that was weaving, whether that was sand painting––that was there for a reason.
"So I feel like I wanted to incorporate that significance in creating for a purpose within my whole artistic journey and artistic career," Nez said.
Nez succeeded in sharing his art through storytelling as the curator for Nez's exhibit said she felt drawn to how he told stories through his art.
"I had seen his work and was more drawn to the storytelling of it more than anything, and I liked the way he did a visual representation of oral history," said Jillian Nakornthap, the curator behind Fractal Lineage.
With his purpose behind creating and the way he carried it out, supported by people like Nakornthap, Nez said the beginnings of his art held questions that helped shape how he could tell the story of his people for a better representation of unique incorporation of the many other Navajo traditional stories.
"The journey had its ups and downs because all of this started with my master's program, and it was like, 'What am I trying to say, how am I going to say it, what's the best format to share these stories," Nez said.
On top of asking himself those questions about his artwork, he was being told by his instructor his concept was not good enough, the formats were not good enough, or his messages needed to be stronger.
Nez said, "It brings you down, but then it only pushes you to make it even stronger, and that's where this all came from. Before, they were all flat two-dimensional pieces of work, but after I was told it needs to be stronger, this was the result."
Choosing 'worlds'
From drawings on paper to large art installations, Nez shared that for this exhibit, he chose the Second, the Blue World, and Fourth, the White World because the looms were "massive," taking up half of the exhibit room.
"The whole idea behind segmenting these images here is for the viewers to situate themselves accordingly and really try to see the image because stories themselves are prayers that heal you in a way," Nez explained, "and to be able to uphold that prayer, you yourself as a patient/viewer you have to situate yourself accordingly and conduct yourself in a beautiful way."
Nez wants viewers to see the story but also feel the prayers from the stories he said help guide Navajos today.
"You gotta kinda sit there and meditate and see everything come together," Nez said. "You're putting in your fifty percent because the stories themselves, the prayers themselves, are fifty percent. The other half is up to you, the viewer."
Like Nez, Menders, a fellow Indigenous artist, shared a similar view for attendees, a better representation of Native people.
"It's more about understanding a more Indigenous approach to a historical narrative that has been colonialized for many years now," Menders said.
Menders' art exhibit is located just a few blocks down from the Chandler Center for the Arts at Vision Gallery on East Chicago Street, where he celebrated his part of the opening exhibit.
"I feel good about this," Menders said. "I collaborated with Peter Bugg on this because in the city of Chandler, this part of their collection, they decided to go ahead and decommission these pieces because they felt they were problematic and that also, with Peter's help, it's kind of cool."
Menders' exhibit, Familiar Territory, re-examines art made by non-Natives in their perspective of Native people and then adds to the picture to make it a more authentic image of Native people.
"I work with people in a city and people in the gallery who see work that is problematic for Indigenous history and narrative and go, 'Hey, this is maybe not something we should be showing anymore even though it's in our collection, and then giving it to an Indigenous artist and going like, would you like to do something with these?' To kind of change this and some of this narrative," Menders said.
The process shared behind the different pieces of artwork didn't fill Menders' head overnight. Menders said the process was slow much of the time, and he needed the art pieces to sit where he could see them every day to really think about what the result should say.
"It just takes a long time to sit with the piece, just kind of listen to it, have a conversation with it, and take time, not be in a big hurry to just jump in and change it, and once it hits you and you're like this is what it needs to be, this is how the conversation needs to be, this is how it needs to be addressed, this is how it conceptually can move in a good way then it's just work after that," Menders said.
Both Indigenous artists took the matter of correcting the representation of Native people. They put it on display for many to see until Mar. 11 for Familiar Territory and Apr. 15 for Fractal Lineage.
"This is who we are, this is where we come from, see us, hear us, we're here, and we're not going anywhere," Nez said as he motioned to his two Navajo weaving loom art pieces.
---