Putting on the war paint: Featured artist brings deep ties to area, grandfather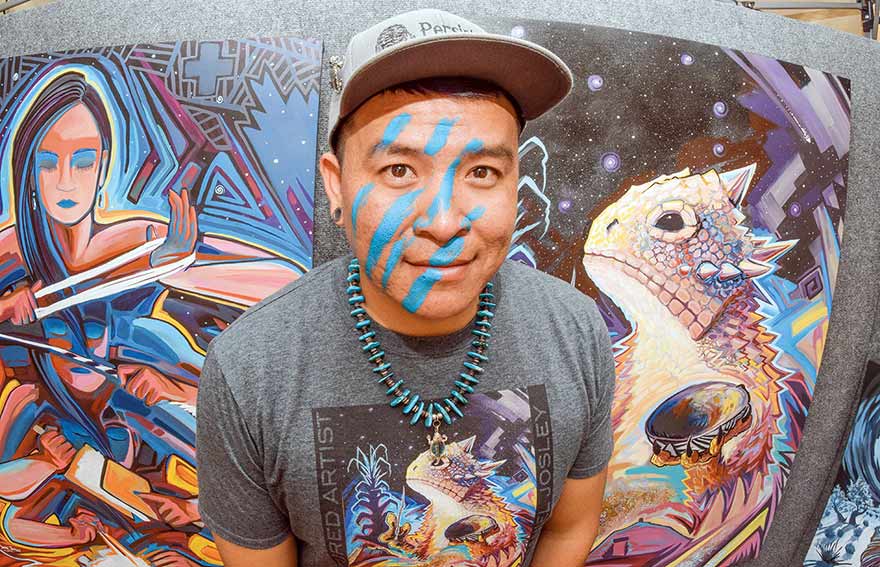 By Krista Allen
Special to the Times
SHONTO CANYON, Ariz.
To influence the children who encircled him on Saturday morning to ask him more questions about his na'ashó'ii dich'ízhii painting and his work, Daniel Josley smeared his face with blue paint as though it were war paint.
"They were, like, 'Why do you do that?' I said, 'I'm putting on my war paint so I can start painting,'" said Josley, 32, who was the featured artist at the 11th annual Rock the Canyon Art and Music Festival. "It was another in-the-moment kind of thing."
There's no forcing art, said Josley. Sometimes pushing through the resistance works and having patience and trying again later works. And sometimes, nothing works, and the final product will be without that flare that makes art worth creating. "So a lot of my work comes from being in the moment and if it's helping somebody – like when I do murals on the roadside, I'm thinking of that school bus that's going to be driving by every day and see what I've created," Josley said.
"That's my drive right there," he said. "Growing up, I didn't see anything like this. It was A to B, going to school, coming home. Now, I've the capability of doing something like that for the kids."
Josley for the past four years has been creating art, which he never studied in school. Everything that he knows about art he learned from masters like Shonto Begay and from people he's interacted with over the years. "Self-taught," he said. "I've had schooling, but it didn't really push me to do what I'm doing today."
---