Memories on wheels: There's a story behind every 'Rezzy Rez Ride'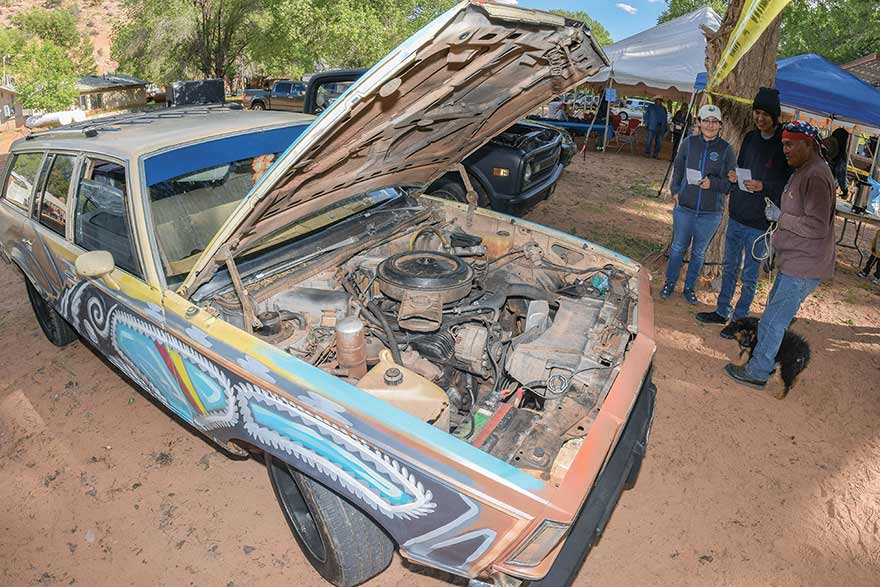 By Krista Allen
Special to the Times
SHONTO CANYON, Ariz.
The stormy morning before the 7th annual Rez Car Show, Terry Hurley drove his 1979 Chevrolet Malibu Wagon to his nephew Daniel Josley's house for a new paint job.
It was only a matter of time before Josley completed both sides of the Malibu wagon with a new design, just as he did a couple of years ago when he painted flames on the sides of Hurley's wagon.
"He told me to do anything I wanted," Josley said. "Some of my murals – I do jewelry – so I thought of his vehicle to be the foundation of a bracelet or a necklace. I had only a couple of hours because it was about to rain. And he won."
Hurley took home the "Rezziest Rez Ride" title after losing to Erik Laughter's 1989 Ford "War Pony" last year, during which he entered his 1979 Chevy truck. "He signed it right here," Hurley said proudly of Josley, the featured artist for the 11th annual Rock the Canyon Art and Music Festival, as he showed off his work. "He's pretty much made a name for himself over the last four years. He's pretty well known now. He's got a lot of murals around the rez."
Hurley said the first time he let Josley paint his wagon, he did it to promote him and to give a gift to his car. This time he did it to showcase the featured artist and how proud he is of his progress over the last four years.
---