Two Diné SWAIA Youth Fellows to exhibit artwork at Indian Market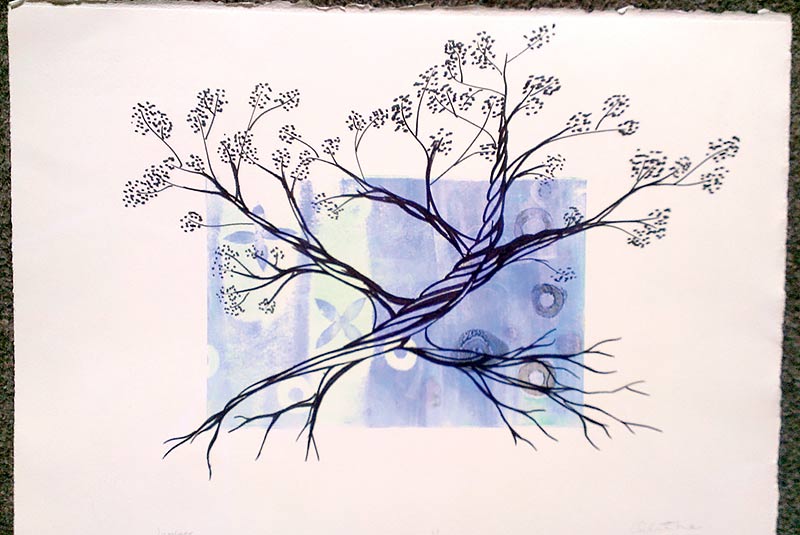 WINDOW ROCK
Santa Fe Indian Market is full of Native artists who've been perfecting their crafts for years, but there are also those young up-and-coming artists excited to be noticed.
Two of those young artists include the Southwestern Association for Indian Arts (SWAI A) Youth fellows Chamisa Edd-Belin and Olathe Antonio.
The SWAIA Youth Fellowship is for Native youth 17 years old and younger.
Each fellow receives a $500 stipend for supplies to assist in pursing their artistic endeavors, the website states. They'll even have their own booth at the Santa Fe Indian Market on Aug 22 and 23.
"Our mission is to promote the finest Indian art, that means cultivating our young artists when they're young to give them the incentive to keep producing," said SWAIA Chief Operating Officer Dallin Maybee, adding they just want to encourage the youth to keep making and producing art.
"Keep telling your story and the narrative of your culture and community," Maybee said, and eventually the youth artists will become masters of their craft.
Maybee said SWAIA is trying to find a way where they can support every youth that comes across their door, and he hopes they'll eventually get there.
But right now, they can only choose a few, and "we chose some of the best and the brightest with the most potential," he added.
Antonio, 17, is Diné and Shawnee from Window Rock and works in screen-printing and mono printing. She is Shawnee Deer Clan, born for Tábaahá, and her parents are Molly and Gino Antonio.
When Antonio found out she was named a youth fellow she was in shock because she honestly didn't think she was going to get it.
"I feel really thankful," she added, because she believes that this fellowship will give her artwork the recognition it deserves.
What Antonio loves most about being an artist is "how you can express what you're feeling without saying anything to anybody. I've always been private, so I felt this was a good way to express myself."
"I think with the fellowship I'll get more recognition so my artwork can be seen by more people," Antonio added.
Antonio said she remembers being an artist as far back as three-years old, but her mother says she's been one since she could hold a pencil.
When she was 12, Antonio said she got into screen-printing, and at 15 she discovered mono printing.
After seeing screen-printing in a magazine, Antonio said she wanted to give it a try, and luckily her mother already had one.
Screen-printing, according to Antonio, is where she creates a drawing using ink, and then she'll copy the image onto the printer and burn it on to the screen.
"From there, I can make as many prints as I want," Antonio said, adding whenever she doesn't know what else to draw she'll resort to trees.
"I never really realized this, but I noticed a lot of my pieces are trees," she said. "That is something that I always unconsciously do if I don't know what else to draw."
Antonio thinks it has to do with the fact that her family is very outdoorsy.
She'll also use a lot of different colors in her work, and she said she's been favoring blues, pinks, greens and purples lately.
Antonio didn't get into mono printing until after she attended a workshop at the Navajo Nation Museum, hosted by Navajo artist Melanie Yazzie.
Mono printing, according to Antonio, is rolling ink onto a plexus glass, and to make different shapes in her pieces she'll use stencils or bubble wrap and cardboard to make texture.
After she creates the image she wants on the plexus glass, she'll get a piece of French press paper, lay it on top of the design and use a roller press to transfer the image onto the paper.
"If I like the way it comes out, I leave it and sign it, but if I want to do more I go over it with ink and start to draw on it," she said, adding that she learned more about mono printing from Yazzie.
After that workshop at the museum, Antonio said Yazzie invited her back to her art studio in Boulder, Colo. to learn more about printing.
Antonio said when she visited Yazzie last year she learned a lot more about layering, how to blend colors and manually press the prints.
Antonio said she loves to layer her work because if it doesn't come out the way she wants it at first all she has to layer it until it does.
"I know with a drawing if it doesn't look like the way you want it, that's it, but with the mono printing you can keep going over it until you like it," she added.
Antonio will have a booth set up at the Santa Fe Indian Market, where she plans on showing several ordinal screen prints and at least 30 mono prints.
"I'm looking forward to see all the other art and for other people to see my new art," Antonio added.
---