Unlikely fashion designer is artist-in-residence at IAIA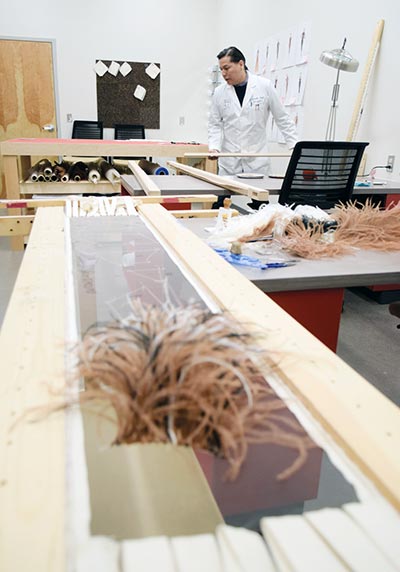 SANTA FE
Orlando Dugi used to spend his summers at his nalis' sheep camp in Grey Mountain, Arizona. He fondly remembers lying outside in the desert on a mattress with his paternal grandparents and looking up at the bright stars. They would point out constellations to him and tell him about the stars.
The image of the stars in the rural night skies of his childhood would eventually become the inspiration for his beadwork as a high-end fashion designer. "They (his nalis) would show me the constellations and sing songs," Dugi said with a smile. "That's why I like to do a lot of beading. It reminds me of the stars."
Dugi's designs have seen the runways from New York Style Fashion Week to small shows in New Mexico. This is a feat for any designer but especially incredible for one that is completely self-taught like Dugi. But his journey to the world of fashion was an unconventional one.
"I had never followed fashion," he said. "I didn't buy fashion magazines." Before becoming a fashion designer he worked construction with his father's business and built homes. "I did the office work and I did the framing," Dugi said. "I would have been doing that right now, running my father's company. "
Eventually, he was introduced to the Native art scene through his partner, Ken Williams, whom he has been with for the last decade. Dugi found an interest in fashion design.
Seven years ago, Dugi decided to pursue a career as a high-end fashion designer. With just memories of learning to sew in his seventh grade home economics class, Dugi designed a gown for the clothing competition at the Santa Fe Indian Market. "I didn't know how to drape or pattern-make or make clothes," he said. That garment earned him a first-place ribbon. The following year he would bring home a second- and third-place ribbon for his work.
---