Newcomb boys handcuff Tohatchi in District 1-3A win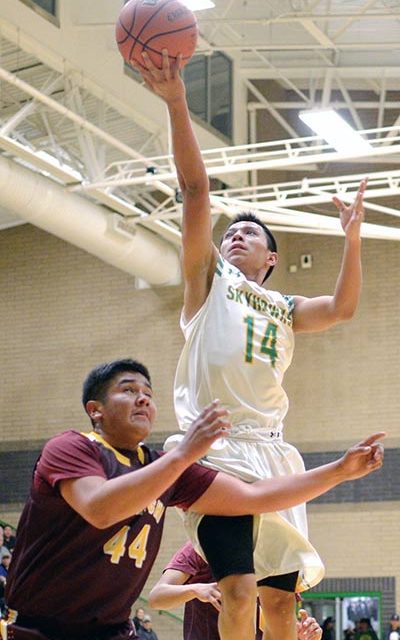 NEWCOMB, N.M.
The constant defensive pressure from the Newcomb boys' basketball team helped the Skyhawks remain unbeaten in district play Tuesday night.
Trailing 37-36 with 4:08 left in the third quarter against archrival Tohatchi, the Skyhawks forced the issue for the next 12 minutes as Newcomb pulled away with a 68-45 win before a packed house at Newcomb High School.
"It was good that we had a game like this," said Newcomb coach Dominique Richardson, whose team improved to 15-7 overall and 4-0 in District 1-3A play.
"Tohatchi is right down the road and no matter what they're going to play hard," he said. "It's part of the rivalry. Hopefully we can keep this (rivalry) going when we drop to 2A next year and play in this home and away series. Our kids really enjoy it."
After playing a competitive schedule for the first part of the season, Richardson said their last five wins have been one-sided so he was glad to see his team being challenged.
"Even though we did not blow them out we were grinding it out and working on our principle by playing defense," he said. "We create our offense off our defense and that is what we did in the second half."
The Skyhawks led 31-15 at the break but Tohatchi (7-15, 3-1) got an impressive showing from freshman Rayshawn Whitney as he willed his team on with a personal run. Whitney scored 12 straight points for Tohatchi as he gave the Cougars their only lead of the night at 37-36.
But after his three-point shot near the four-minute mark of the third, the Cougars were overwhelmed by Newcomb's defense.
"They're quick and when it looked like we broke their press they were right back on us," Tohatchi coach Jim Smith said. "We got too lax and they just wore us down."
Smith said he tried to keep fresh legs on the court but he said the crowd got to his bench.
---