'Vistas & Visions of the Colorado Plateau' exhibit opens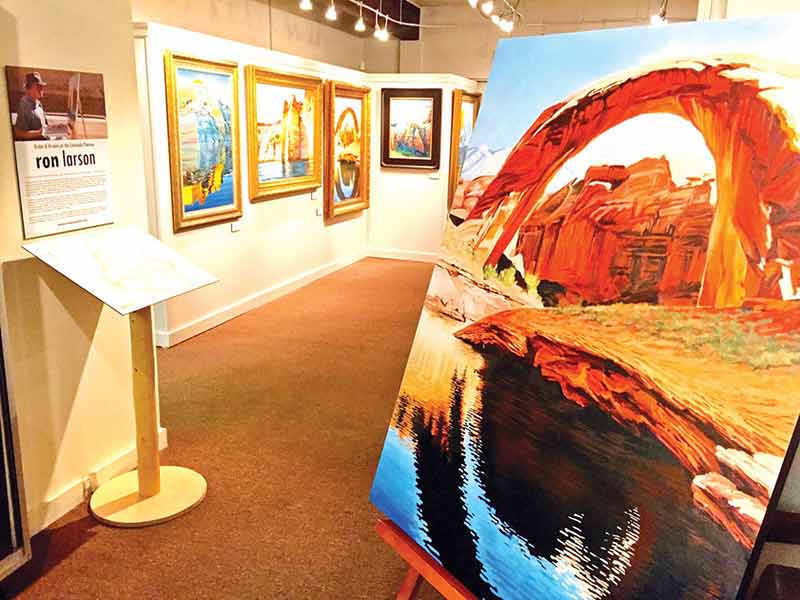 PAGE, Ariz.
Ron Larson says he's really attracted to the colors of the Colorado Plateau.
"It's so unique," he said. "The formations for one thing, the color another. Then you've the light, the dark, the contrast – add that to it and they're just phenomenal."
His new collection of paintings entitled "Vistas & Visions of the Colorado Plateau" is now on exhibit at the John Wesley Powell Museum.
Dozens of people on Feb. 6 attended the exhibit opening where Larson talked with event-goers and shared some of his painting techniques. It was a big opportunity for him to be here.
Without the people, he says his art would be merely worthless and nobody would get to enjoy it.
"Each of us have different talents, and that's where the real joy comes from: by sharing with others."
Larson shared with the crowd on Friday evening the Colorado Plateau, noted for its scenery, spreads across 130,000 square miles of geological wonderland that the Utah native calls his studio.
It's apparent in his paintings that time stands nearly still in the outback regions of the Colorado Plateau.
Erosion lightly planes the mesas and deepens the canyons year in and year out. A wet year thickens the scanty grasses and becomes lush, and a dry year fades them.
---