Colorado teens donate 1,700 books to Nation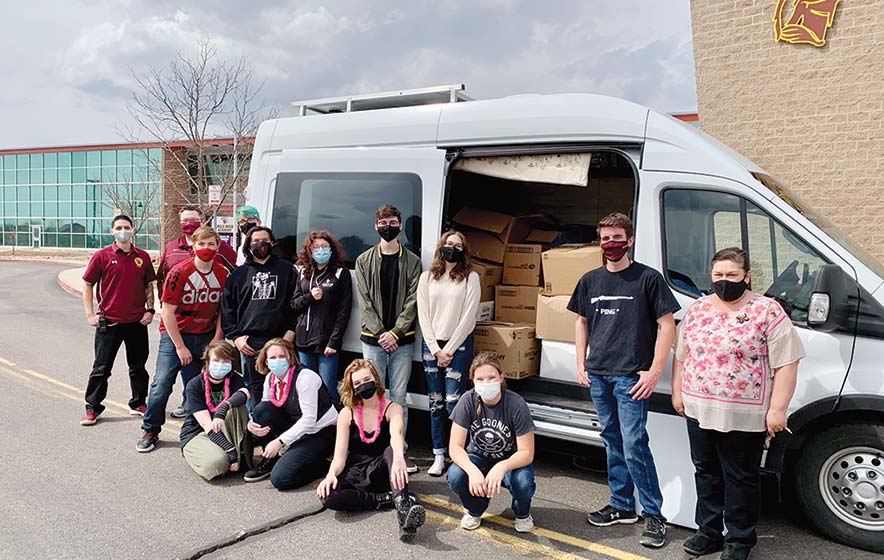 WINDOW ROCK
Kathleen Pierz has had a soft spot for the Navajo Nation since 2005, when her family hosted national science fair participant Garrett Yazzie of Piñon, Arizona, at their Detroit area home so he could attend a prestigious private school.
Yazzie has since graduated, grown up and started a family of his own, and Pierz is retired and living in Brighton, Colorado. But she visits the Navajo Nation often and has maintained ties with Yazzie and his family.
Sometimes she wonders how many other Garretts are out there … promising kids who don't have the educational opportunities they deserve. One thing she had noticed when visiting the rez is that a lot of kids don't even have access to books. Yazzie and Pierz's daughter Sarah, who also participated in the national science fair, used to go on speaking tours about their experience and asked each audience member to bring a book to be donated to the Navajo Nation. Garrett's mother, Georgia Yazzie, then farmed the books out to schools and chapters.
"We probably collected over 10,000 books while Garrett was with us," Pierz said. These days, Pierz is president of Brighton's Rotary Club, which is always looking for local, national and international service projects to make people's lives better.
When a fellow Rotarian, the principal of Eagle Ridge Academy charter school, mentioned that the school had a stash of library books it wasn't using since it had gone digital, Pierz saw an opportunity. The school had an Interact Club, Rotary's teen branch, so Pierz decided to get them on board.
The club's sponsor, Tara Gallegos, had been worried that the club had been languishing a bit during the pandemic, and a book drive sounded like something the kids could handle while social-distancing and staying safe. Interact member Sofia DeLuna-Martinez pounced on the project.
As a senior, "I knew this would be one of my final projects, so I wanted to make it really good," she said. Her brother Diego, also an Interact member, got involved and before long the siblings had members of other clubs and even other schools collecting, sorting and boxing books — more than 1,700 of them.
Pierz called Navajo Nation Library Director Irving Nelson, who confirmed the library could use the books. Delivery was no problem. Pierz will take any excuse to hop in her camper-van with her adopted rez dog, Shorty Brown, and have an adventure. She hadn't gone anywhere since COVID hit, but she was fully vaccinated and ready for a masked-up, socially distanced road trip.
So two weeks ago, the kids loaded up Pierz's van and wished her godspeed.
Back in Window Rock, Nelson and library assistant Alma Yazzie were waiting to welcome the donation. Nelson said the library has been the recipient of several book drives lately, along with its own recent orders of about 10,000 books, but they're coming at an expeditious time since the library is working on an ambitious plan to establish branch libraries in all 110 chapters.
"I just hope I can catalog them all before I retire," said Nelson, who plans to leave his 43-year post on May 21.
Gallegos said she couldn't be prouder of the students who organized the drive. "Interact's motto is 'service over self,'" she said. "Our student body, even in this time of crisis, exemplifies that."
---