Shiprock football player signs on for college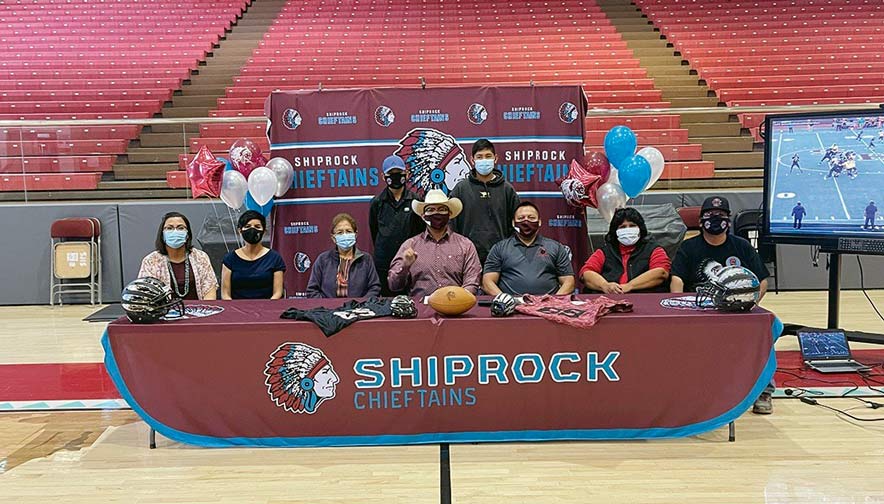 CHINLE
Tillton Begay, an offensive lineman for the Shiprock Chieftains, has signed his letter of intent to play college football for Adams State University, a Division II school in Colorado.
"It's hard to believe really because I came into my freshman year not the way that I am now," Tillton said. "I was a pretty big kid — big as in chubby. I wasn't too tall and I guess you can say I wasn't that into sports. I don't think anybody would have expected me to get where I am today."
That may not be quite accurate. Tillton had always been athletic growing up and had been interested in trying out for football, according to his mother, but she was concerned for his safety and persuaded him to wait until he was in high school. Until then, he played baseball while in junior high before becoming a freshman at Shiprock High.
He's played football for only three years but has grown a deep passion for the sport. He is unable to put into words what he loves about it, but he likes the coordination of the team and the tightness of the group as he made a lot of friends.
"I'm an offensive lineman and it takes all five of us to protect our one quarterback. It taught me a lot about teamwork and being a leader," Tillton said. "Sometimes you have to speak up, tell other guys what to do, what's going on, especially when helping out the younger guys too. So it would be teamwork, leadership and just hard work overall."
Since he started, Tillton has received titles such as the Most Improved Player award in his freshman year, Offensive Lineman of the Year in his junior year, and in his senior year, he received First Team 2nd District on Defense and 2nd Team All-District on Offense.
Shiprock High's head football coach, Anthony Clah, saw a lot of good qualities in Tillton when he came onto the team.
"He developed his skills pretty well over time," Clah said. "One thing I noticed about Tillton and his skills when I showed up in 2018, was that he had a lot of desires but he didn't have the skillset. So, over the next three years that I got to know him, he worked hard to improve his skills and he always talked about playing college football, and a lot of players say that, but he was definitely one of the few that had the drive and motivation to actually get it done."
Determined to improve himself, Tillton would ask his mom or aunt, Dawn Josea-Lee, to record him during his games and then later he would review the videos and see what he could do to improve himself.
"I believe football gives him a lot of motivation," Josea-Lee said. "Not only towards the sports aspect but as well as with his education. He knows and understands to keep his grades up, so he has to work to maintain his grades to play sports, so I believe it does play a positive factor."
Josea-Lee sees Tillton as a strong, smart, and caring individual. A young man who has always helped his mother, looked out for his younger brothers and someone who also likes to read and learn new things at school.
"Tillton has always been a caring person," Josea-Lee said. "People are always behind him. He applies himself to being a determined, goal-reaching, and disciplined Christian man."
Tillton's senior year became hectic though with the onset of the COVID-19 pandemic. It took some doing, but he eventually got used to going to school online and despite sports being canceled, he continued to train and exercise while in lockdown. In early 2021, past the normal football season, the Chieftains were told they were going to play. It was a "weird" feeling for the team as they played in the spring, but they were happy to get to play again.
"I think we were top-notch, we played with what we could," Tillton said. "We didn't have a full roster of guys coming to play, I think we ended off the season with 17 players total and my coach was always saying, 'iron man football' and it really was. A lot of us were playing spots we hadn't played before and we were all tired by the end of the games because we hardly took any rest, but it was definitely one of the best teams I have ever been a part of, one of the hardest working teams I'll ever be a part of"
Although his last season was short, Clah said it was a good one for Tillton. He made great passes, did his job during pass protection, and overall was a big part of the team's defense.
Clah noted that this is the first time in probably 25 years that two football players got to sign on to play collegiate football at the same time, the last players to do so was Clah himself and his brother. The other Chieftain who recently signed his letter of intent was Tillton's friend Shiyazh Pete who will be playing for New Mexico State University. Clah sees this as a sign that their football program is working.
"He can be a quiet inner power, but he is also vocal at the right moments," Clah said. "He would lead the team and our team cheers at team warm-ups as he gets along with everyone pretty well, but he also gets after them when he knows they need to get better.
"He's a great young man who deserves it, he worked hard for it and who will represent not only himself, but his family, the community, and the Shiprock Chieftains, so we'll looking forward to it [his future]"
Tillton gives credit for his achievements to his family who have always motivated him to do his best. He also grew a sense of responsibility as he helped to care for his younger siblings as the protective older brother. Moving to college will be a tough transition, but he'll be close by should he want to visit his family.
Regardless, he knows for a fact that he will be working hard while at college.
"They seem like a pretty good program," Tillton said. "They're taking a chance on me and anybody who takes a chance on me I'm willing to put in the work and ethic for them. There are a lot of guys they could have picked but they picked me. I'm proud to start working there, start my academic career as well."
He's planning on studying Kinesiology, a subdivision of physical science that studies the body's movements. He is considering a career as a trainer or something related to that field.
One of the people who have inspired him to do his best was his former coach, Shawn Light. They worked together and helped Tillton to improve, getting him bigger and stronger. He was a role model whose work ethic appealed to Tillton and the young man aspired to be like him. Light even had his brand for a while, a whole line of achievements that Tillton found impressive, especially for a native person. Light had returned to college and study Kinesiology, much like Tillton is planning to do as well.
His family sees the signing as an amazing opportunity for him and they know that he will make them proud with his resolve, skills, and faithfulness.
"We are very happy and proud of Tillton," Joesa-Lee said. "He is selfless, determined, and kind-hearted. He shows up to every practice refusing to quit. He is an amazing person, always making impossible situations possible."
Tillton gives thanks to his coaches, teachers, family, and God for helping him to achieve his dream and allowing him to continue to play the sport he loves.
"I like to thank all my coaches who trained me and all the people who encouraged me, pushed me to this point that I'm at right now," Tillton said. "I'd like to thank all of my teachers that have taught me throughout school, all of my family members who pushed me and made me a better person.
"All of my family and friends and I'd like to thank my mom; she is the hardest working person I know. I do this all for her."
---