Halloween event held for dogs and owners to bond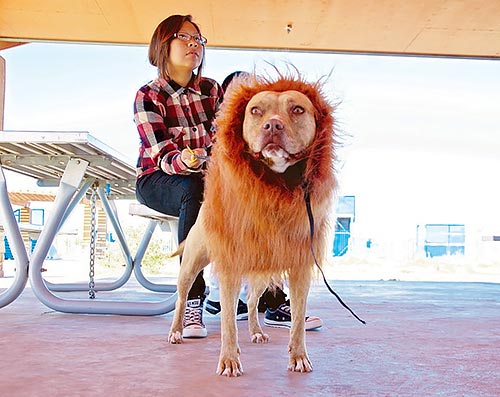 KAYENTA
The miniature lions gravely growling over the weekend had to be held back by their collars as they looked as though they wanted to fight the other animals invading their turf.
Three-year-old pit bull terriers "Kane" and "Pork Chop" were the miniature lions – along with "Roxy," a 4-year-old curly coat dog dressed as an Ewok from Star Wars – with faux manes wanting to fight a bumblebee, a lobster, a miniature horse, a mummy, and a superhero.
"Because (the pit bull terriers) were already gold, we decided to (dress) them as lions," said Latoyah Todecheene, who along with her family of Star Wars buffs brought three of their dogs to the inaugural Howl-O-Winnie Dog Event sponsored by the Kayenta Animal Care Center.
At least a dozen dogs attended the animal care center's Howl-O-Winnie event on the afternoon of Halloween at the Kayenta Recreation Park where fun and games included bobbing for Pup-Peroni brand treats, collar toss, a costume contest, and a "doggy" cupcake/gift basket walk. And there was food for the owners.
---