Oh, Christmas tree!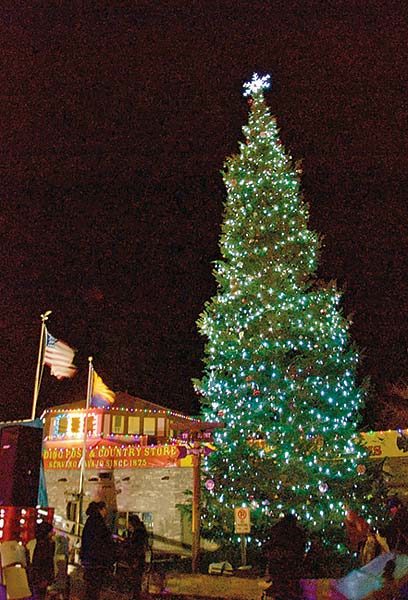 In new tradition, colossal conifer hauled to Western Navajo
TUBA CITY
In Tónaneesdizí this year, Christmas came before Thanksgiving. Nov. 20, to be exact.
Hidden from most tourists except intrepid hikers, a corkbark fir taller than a five-story building would have aged in obscurity but for a stroke of luck. The giant conifer was chosen from the entire Chuska Mountain forest to be the tree for Western Navajo.
The new tradition of having a Western Navajo Christmas tree started last year, when a large tree was cut as part of the Toys for Tots delivery.
This year's 58-foot tree from Chinle Agency is 20.5 inches taller than last year's tree, also a corkbark fir.
Arnold Maryboy, who's on the Christmas tree committee, said with the help of Navajo Forestry and Navajo Tribal Utility Authority (Fort Defiance and Tuba City district offices), this year's tree was harvested from the same location (near Tsaile, Ariz.) as the year before.
"But it's much higher up," Maryboy said.
Maryboy said the committee went above and beyond by bringing home a taller tree.
"To take on a challenge, something we haven't seen here, our goal was to get the same size tree — If not, bigger," Maryboy said. "Basically, to never give up. That was the one thing we went after."
With the invaluable help of many individuals and local businesses, a lighting ceremony took place Friday evening as a switch was flipped and thousands of lights shone from Chuska's Christmas gift to the people of Western Navajo.
---