'Our sheep herder'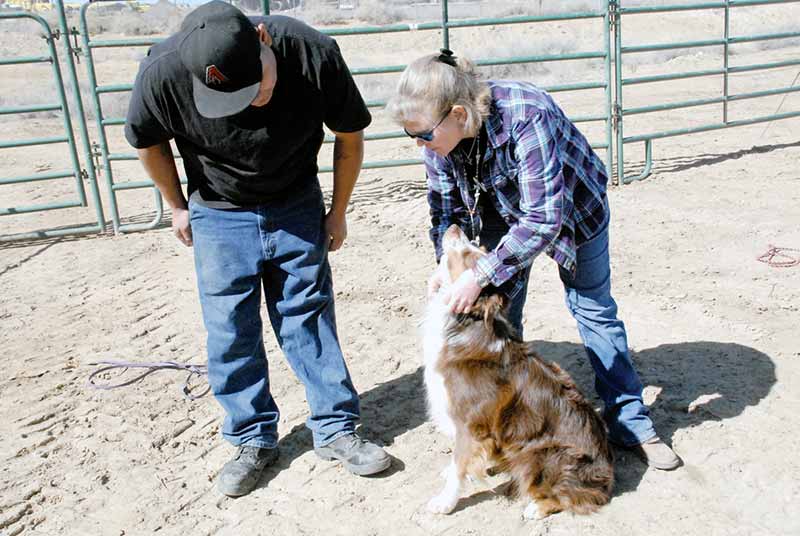 When training sheep dogs, keep in mind instinct, connection and enjoyment
The Navajo Nation doesn't have a shortage of dogs, but there is one type of dog that is sought after by many – sheep dogs.
The sheep dogs found on the rez have the ability to take care of those wooly creatures the Navajo people have relied on for survival, as the furry herder is usually seen trailing behind them.
But how do those dogs herd sheep? Is it instinct or perhaps training? Those were questions the staff members at Navajo Technical University's Veterinary Hospital wanted to be able to answer, so they brought in a professional.
Dog trainer Shawna Davis visited NTU last week to lead a sheep dog demonstration where she showed people the basic techniques needed to train a dog.
Twyla Zoey Benally, veterinarian at NTU, said they wanted to offer this demonstration to the community because surveys from their sheep workshop last year showcased it was an area of interest.
Benally said this demonstration was just a way to help those sheep owners who aren't able to watch their livestock all the time.
"Sometimes you don't have folks around to help you. If you have a dog it will make it quick," she added.
The training approach Davis introduced is called ICE, which means instinct, connection and enjoyment.
Davis said that the whole thought process behind the ICE methodology is the dog owner takes their dogs natural instincts and create a connected working relationship so that it's enjoyable for the dog.
"The whole point is to have fun and the dog gets to work," Davis said, and once that is understood you won't have to walk all over the place to get your livestock.
"You'll have a working partner with what you're doing," she added. "It makes everything much easier."
Davis wanted people to know that pet obedience is not the same as training a dog to herd sheep because basic obedience is sit, laydown and come.
Davis said when you are training you have to remember that "dogs understand touch and they understand sound."
---