Vets don't let vets go dry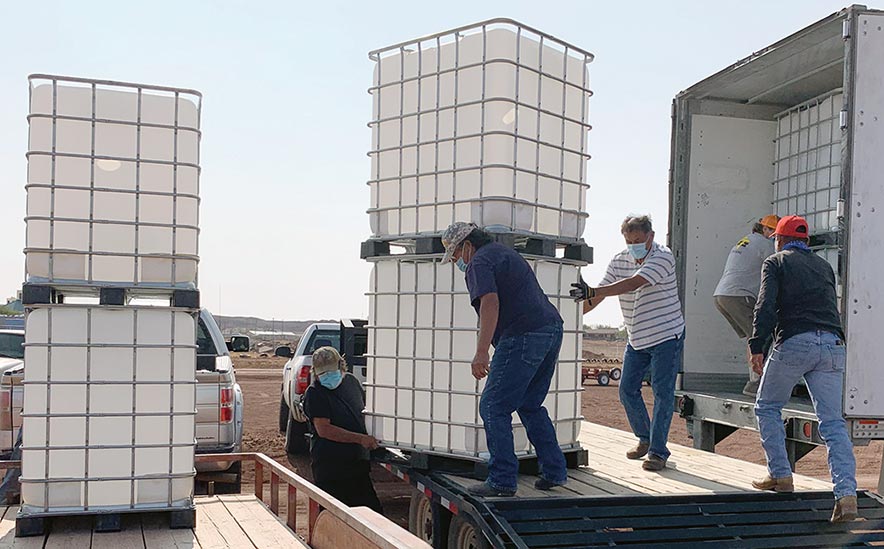 CHINLE
When the COVID-19 pandemic hit, the first thing the leaders of the Central Navajo Veterans Organization thought of was their veterans. Elderly, some disabled, and living in remote areas without running water, they were definitely in the most vulnerable category.
So they appealed to the Navajo Nation Veterans Administration for help. "The first thing we asked for was chainsaws so we could cut them some wood," said Pete Tsinnijinnie, the organization's commander.
But when some veterans who went to pick up the saws were told they didn't qualify, and another was turned away because he was five minutes late, "we realized it wasn't going to work," Tsinnijinnie said, "and we were going to have to do it ourselves."
It turned out that was not the case. Jacqueline Begaye, the secretary-treasurer for Many Farms Chapter and a member of the organization, suggested reaching out to veterans' groups in Phoenix. They did, and also presented to the Navajo Nation Council. "We asked for $6,000," said Harrison Kee, the agency's vice commander.
"Only one delegate came through with $2,500, and that was Carl Slater. "Then we got word from down south that these old retired military guys had raised $12,000."
The "old retired military guys" were the Veterans Medical Leadership Council. The group usually confines itself to Maricopa County, but when the Navajo vets made their plea, they couldn't turn them down. The amount raised was more than they needed for chainsaws. They turned their attention to something the veterans needed even more than wood.
"At the forefront of all this stuff is water," said Tim Johnson, Hard Rock Chapter president, leader of his local veterans organization — and a COVID survivor. "We can do without pavement," said Johnson. "We can do without wood. But you can't even do simple hygiene without water."
Visiting local veterans, the group found the main problem for a lot of them was that they didn't have a large tank to use for water hauling. Most had at least a 55-gallon drum, but some just had an assortment of three- or five-gallon containers, so they were constantly making trips to the chapter house to fill them up, risking exposure to COVID.
The Phoenix group agreed to purchase 180 300-gallon tanks in their area and figure out a way to get them to the reservation. The Barry and Peggy Goldwater Foundation stepped in to offer one of their semi-trucks; a local company, Jack Travis Trucking, volunteered one of its drivers.
Last Friday, the third of three 60-tank shipments arrived at the old Chinle airport, where the commanders of the different chapter veterans organizations waited with flatbed trucks to distribute them to those in need. Begaye, standing by to help, said the effort reminded her of the way her father, a chapter official and Korean War veteran, used to do things. "He was always helping the veterans," she said. "He didn't pay attention to the red tape."
Tim Claw of Many Farms, who had received his tank earlier, said he was very grateful to be able to minimize his long trips to Chinle or Tsaile to get water. "Some of us veterans, we're in the remote areas, that's the main thing," Claw said. "We're getting up in age. Our joints ache. We're kind of limited in fixing up the home for ourselves. We have different complications, and now this virus comes along. Little things like this really help."
Tsinnijinnie said the effort is spreading to chapters outside Chinle Agency. "We delivered some tanks to Jeddito, even though they're in Fort Defiance (Agency)," he said. "Today, there are people from Red Valley and T'iis Nasbas here to observe. Next week, Hopi is receiving 60 tanks."
Begaye said the tanks are not the end of it. "We have to figure out a way to get water out to all these guys," she said. "Some of them don't have trucks they can put the tanks on." She has also started to deliver mechanical hand-washing stations to make hygiene easier.
Tsinnijinnie said he's grateful to the Phoenix vets, but also credits his own commanders for getting the tanks out to the people who need them. "They're using their own vehicles, buying their own gas, risking $1,000 fines if they're out past curfew delivering," he said. "Nothing was coming from the Window Rock level," agreed Kee. "This is the effort of the local commanders and veterans."
---