A sense of home: 10th annual shoe game brings songs, laughter to urban Navajos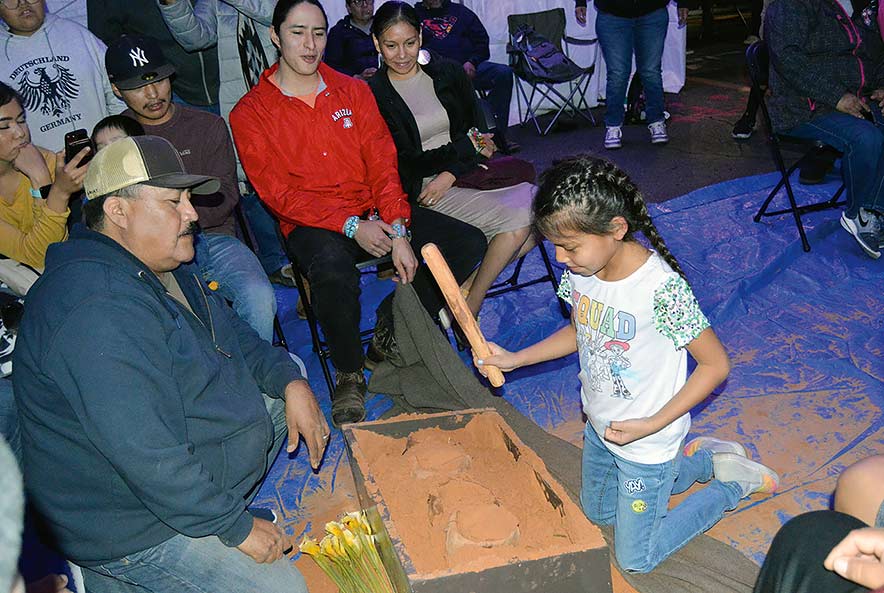 By Candace Begody
Special to the Times
PHOENIX
For many urban Navajos, going home is simply not an option. With that in mind, the staff at the Phoenix Indian Center decided to bring home to them.
"We were able to bring home to them with this shoe game," said recording artist Talibah Begay, of Phoenix Indian Center's 10th Diné Shoe Game.
"Even if it's just for a weekend, they are able to experience the game and it brings comfort to them," she said. "For a lot of people, it is hard to go back and forth to partake in shoe games. Some have to be here because they're in school or because there are more job opportunities."
Nearly 100 Navajos, some living in the Phoenix metropolitan area and some traveling in from the reservation, attended and participated in the center's annual shoe game on Saturday night.
"This is a game that teaches a lot about our cultural values and how important the animals are to our people and how big of a role they play in why we live the way we do today," Begay said.
"The game teaches lessons about ma'ii and about how there are always consequences to our actions. It also teaches about be'eedloo' and the consequences of cheating. It also teaches k'e."
Begay, along with Roy Descheney of Round Rock, Arizona, were invited to facilitate the késhjéé', which was held on Friday and Saturday night.
Both nights, the sounds of Navajo voices singing the traditional shoe game songs and laughter echoed through central Phoenix.
"I tried to learn the game by sitting in and observing," said Aaron Rivers, who is half Navajo and half O'odham from the Salt River Pima-Maricopa Indian Community. "It seems to be a social event and a time to spend with family and friends. Everyone is laughing and I hear people yelling across the room teasing each other."
Rivers attended the event with his mother and cheii, both of whom had traveled from White Cone, Arizona, to visit Rivers.
For Renetto-Mario Etsitty, a teacher at a local school and originally from Many Farms, Arizona, the shoe game allowed attendees to learn about traditional Navajo stories.
"The shoe game is where we get our seasons from, and it was a way of reintroducing and re-instilling laughter and happiness back into the world," Etsitty said.
"People were traumatized from the prior world," she said. "It also teaches us about equality and how the night people almost won, but the day people decided to cheat and that is why we have day and night."
In addition, Etsitty said, it also tells the story of the Navajos' prior interaction with animals.
"It was the last time humans and animals interacted," Etsitty continued. "After this game, the separation between animals and humans became apparent.
"To have people understand our stories is important," she said. "It is what separates us from the world and from other tribes. The shoe game celebrates the animals and reenacts the event. Now every animal has its own songs."
Added Etsitty, "Some of us don't have a chance to go home, so it is great to have this here in Phoenix. It is a good way to keep our culture vibrant and to show others who we are. People need to appreciate that there is more to us than the novelty of jewelry and weaving."
According to Jolyana Begay-Kroupa, director of development, who also oversees the language and culture programming at the Phoenix Indian Center, the center receives funding from the Navajo Nation to provide language and cultural classes to the community.
In addition, the funding allows the center to sponsor events such as the shoe game.
"This was an opportunity for our urban Diné families to come and enjoy this wintertime event," said Begay-Kroupa. "It is considered a healing activity. Through the singing, storytelling, and humor, people leave feeling good. This has become an important event for our families here."
There was a wide spectrum of ages in attendance – many elderly and some babies. The youngest participant in the shoe game was eight-year-old Taliah Begay, daughter of Talibah Begay.
"She loves and knows how to play the game, she sings, and she knows the point system," Talibah Begay said of her daughter. "I've been bringing her to shoe games since she was a baby. Having kids participate opens their minds, it allows the kids to be themselves, and they get hands-on teachings."
The event also featured Native jewelers and a frybread stand, a first for the event.
"There are so many Navajos here in the Phoenix area," added Begay-Kroupa. "Some can't go back at all even if they wanted to, some are here not by choice, some are here for education or for jobs. We have to find ways to advocate and support our people and the shoe game is one way we do that."
The center is the oldest Native American nonprofit organization of its kind in the U.S., and was formed in 1947, according to its website.
Information: https://phxindcenter.org/.
---