Diné poet takes on 'solastalgia'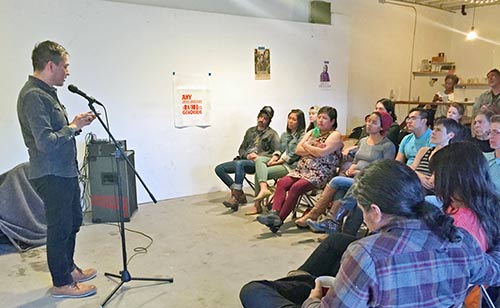 BROOKLYN, N.Y.
Before taking the stage at the Asian American Writer's Workshop for a poetry slam, Demian DineYazhi' added a little touch of home with a colorful, flowery scarf.
The kind of scarves his grandma and thousands of other Navajo masanis wear during ceremonies, sheepherding, or protection from the elements.
Once the 32-year-old added that garment to the stage, the Solastalgia tour that took him and his friend Jess Chen from California to New York began. DineYazhi', who collaborated with other poets of color, including Chen, on an eco-feminist theme, spoke mostly about growing up in and around the Navajo Nation to the queer-friendly Manhattan crowd in Greenwich Village on May 17.
"For indigenous people, we are consistently navigating spaces in a post-apocalyptic dystopian reality," DineYazhi' said, explaining that solastalgia in Native communities is real and often occurs when non-Natives romanticize Indigenous peoples rather than viewing them as present, modern beings.
Coined by philosopher Glenn Albrecht in 2013, "solastalgia" refers to the distress produced by environmental change impacting people directly connected to their homeland.
Fellow poet Ceci Pineda defined solastalgia in a lyrical form as "the pain experienced when the place that one loves and one adores is under immediate assault."
In New York City, Pineda noted that solastalgia is the gentrification movement happening in the city's five boroughs, where the rising cost of living is displacing small business and low-income families. Similarly, Pineda referenced how solastaglia exists in indigenous communities with missing and murdered women and children. Often, they're victims of sexual violence, Pineda said, echoing DineYazhi's creative work.
---