'Grandma on horseback' among elders honored at Ééhániih Day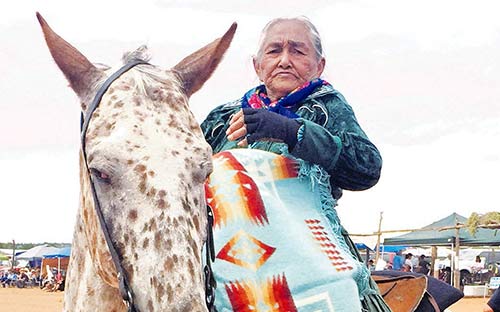 NAATSIS'ÁÁN, Ariz.
To celebrate culture and tradition at Ééhániih Day, Julia Fatt from Paiute Mesa, Ariz. rides her horse in the mini parade of elderly every year. Though she is known as "the grandma on horseback," Fatt is the often associated with what the celebration really is: Remembering the forefathers and honoring the elderly who have endured hardship over time.
It is said that in those days, Diné men and women wore concho belts, silver dollar pins, and moccasins when they arrived at Ééhániih Day, formerly Pioneer Day.
Now in her late eighties, Fatt reminded spectators over the weekend what Ééhániih Day is really about.
It was sometime after 7 a.m. Ninety moccasin runners had left the chapter house about an hour ago, making their way up Navajo Mountain, the laccolith nearby. The people waited for Ééhániih Day to start as the master of ceremonies talked through the public address system and presented the schedule of events.
The Oljato Veterans Organization from Tsébiindzisgaii posted the colors shortly after. Dressed in their camouflage uniforms, flag bearers Benny Fatt, Amos Holiday, Amos Keith, David Miller, and Wesley Simpson each posted a flag in front of the announcer's stand.
After a welcome address by Council Delegate Herman Daniels Jr. (Naatsis'áán/Oljato-Monument Valley/Shonto/Ts'ahbiikin), the two-mile fun walk and the 5,000-meter (3.1-mile) fun run began. A mixture of generations took part in each event.
The run was a piece of cake for nine-year-olds Joseph Rodriguez from Dennehotso, Ariz. who finished first and Tyler Stach from Moab, Utah who finished second.
---