History repeats itself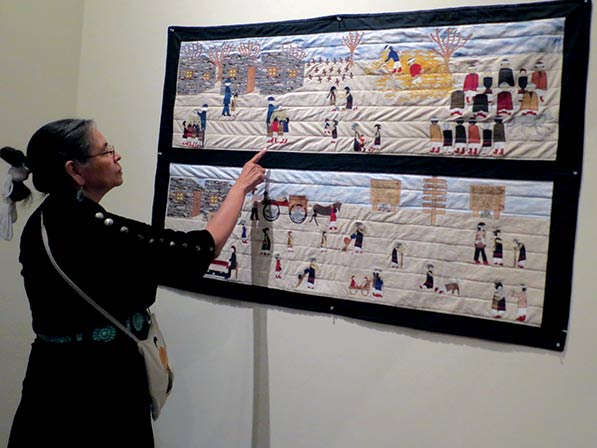 Endurance, survival depicted in narrative tapestries from both sides of the Atlantic
FORT SUMNER
Stitch by stich, Susan Hudson, Diné from Sheep Springs, New Mexico, gives an in-depth look at the day-to-day life the people endured during their captivity at Hweeldi from 1863 to 1868.
Her most recent wall-sized quilt was displayed during the 150th anniversary celebration of the signing of the Treaty of 1868 held at the Bosque Redondo Memorial visitor's center June 8 and 9.
Pattern by pattern, Frances Crowe, from western Ireland, tells similar stories of forced exodus on her sweeping scenic tapestry "Displaced," depicting the Irish who were driven off their lands fleeing hunger and starvation around 1847. Alongside them, she brings forth Syrian families fleeing violence in their war-torn country today.
While Hudson and Crowe live and work continents apart, their fabric art vibrantly portrays the aftermath of colonization and genocide that's left homes and families in ruins around the world.
Their work documents that history keeps repeating itself. Auschwitz survivor remembers (sub) Hudson's series of story-telling quilts begins when the Diné were force-marched to Ft. Sumner after the U.S. government burned their homes and crops and killed their sheep. Hudson said that the person who bought it survived Auschwitz, the German concentration camp during World War II where hundreds of thousands of Jewish people suffered horrible deaths.
"When he looked at it, what grabbed his heart is, 'You can change the clothing, you can change their uniform, and it would be what I went through,'" she recalled him saying.
---