A strong image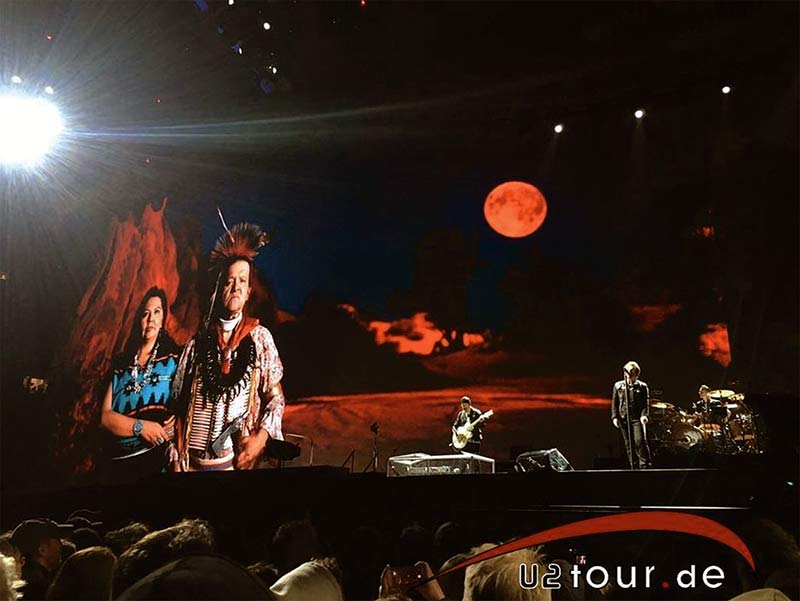 Diné filmmaker appears on large screen in U2 show
WINDOW ROCK
Pamela J. Peters, originally from Shiprock and now residing in Los Angeles, proudly represents the Diné in a large screenshot on the stage behind the Irish rock group U2.
U2 is touring in celebration of the 30th anniversary of their album "The Joshua Tree" and during the performance of "One Tree Hill" a music video is played behind the band showing people from around the world.
Peters was cast for the video and portrayed Native Americans, wearing her traditional Diné attire, along with her friend, actor Monty Bass of Oklahoma.
Bass starred alongside Wes Studi in the movie "Geronimo: An American Legend." Peters wrote and produced the documentary "Legacy of Exiled NDNZ." The documentary portrays young Native Americans adjusting to life in Los Angeles.
One day in early March, Peters saw an ad for a casting call while walking around town. The ad called for people of all ethnicities and since she's involved with helping young Native Americans get into acting, she decided to put the information on Facebook. A few days later Peters was asked to meet the director, Anton Corbijn. He asked her to come to the casting call where Peters took a few headshots for the video.
Corbijn has directed music videos for the Red Hot Chili Peppers, Arcade Fire, Metallica and Depeche Mode.
---