Beating injustice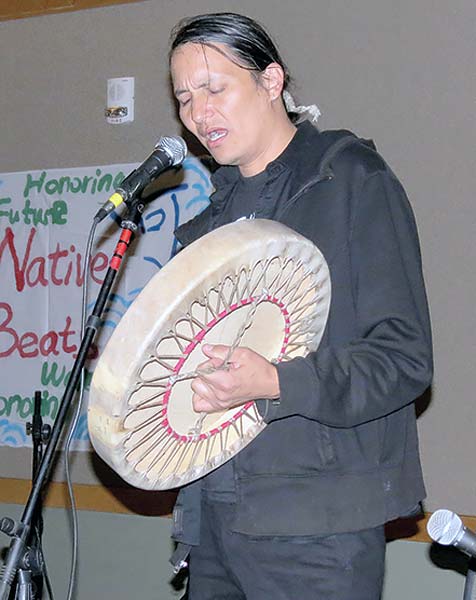 Native Beats rolls out first benefit supporting water resources, youth
ALBUQUERQUE
Adding a new beat to Native Beats, an annual performance venue for both up-and-coming and renowned indigenous recording artists, this year's concert came with a message.
Along with featuring back-to-back musical talent, the concert raised funds and awareness during the daylong Honor Our Waters Benefit, presented Sunday, Nov. 15 by the Kiva Club, the University of New Mexico's Native American student club.
"It's the first time there's been a theme," said Kiva Club president Demetrius Johnson, (Diné), who added that the annual concert started in 2002, 13 years ago.
"This year, we wanted to hear local indigenous musicians and hear about the issues that they're concerned about," he said.
The musical line-up started in the morning with performances by the Little Rez Boyz, a traditional drum group that features fancy shawl dancers from La Mesa Elementary school; and continued until early evening with punk rock legend Klee Benally, hip hop artist Bishop Underdog, hip hop artist Kooper Indigenize Curley, and many others.
"With the music and the arts, we have the power to heal," said Curley, a Diné activist, moments before he went on the stage to perform.
Between sets, the steady stream of concertgoers also heard from Shiprock Chapter President Duane "Chili" Yazzie; Miss Indian UNM, Renata Yazzie (Diné); actress Lynnette Haozous, (San Carlos Apache); and community member Carol Surveyor (Diné) who spoke about efforts to protect tribal land and water resources.
Surveyor said that she began speaking out about protecting the environment after the Aug. 5 Gold King Mine spill that contaminated the Animas and San Juan rivers.
"My family lives all along the San Juan River from Durango through Shiprock (New Mexico). When I saw that the spill happened, it was like a dagger in my heart. It was like losing a family member," she said.
---